The Annals of the World (With Cd)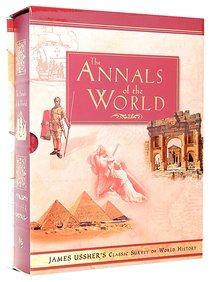 James Ussher's ANNALS OF THE WORLD was first published in Latin in 1654. It was translated into English in 1658, and this current publication updates the work into modern English. This comprehensive history of the world through A.D. 70 offers a look at history rarely seen: read about the kidnapping of Julius Caesar, or the many exploits of Alexander the Great. Read about biblical events and how they fit into the secular frame of history. Ussher travelled throughout Europe collecting information for his work, and many of those original documents have been destroyed in the years since, leaving Ussher as the primary source. This edition has many reference keys, making it an extremely useful book for libraries and individuals as well. Each paragraph is numbered; each section is precisely dated with Gregorian, Julian, and years-from-the-beginning-of-the-world dates; over 10,000 footnotes from the original text have been updated to references from works in the Loeb Classical Library by Harvard Press; contains over 2,500 citations from the Bible and the Apocrypha; fully indexed; includes 8 appendixes; comes with a CD-ROM of helpful graphs and charts. The book is Smyth sewn with gilded edges, foil embossing on the front, back, and spine to give this volume a classic literary look. This book should be in the library of every scholar and every church and public library. It is a mammoth masterpiece of classic literature.
- Publisher.
You May Also Be Interested In
About "The Annals of the World (With Cd)"
James Ussher's ANNALS OF THE WORLD was first published in Latin in 1654. It was translated into English in 1658, and this current publication updates the work into modern English. This comprehensive history of the world through A.D. 70 offers a look at history rarely seen: read about the kidnapping of Julius Caesar, or the many exploits of Alexander the Great. Read about biblical events and how they fit into the secular frame of history. Ussher travelled throughout Europe collecting information for his work, and many of those original documents have been destroyed in the years since, leaving Ussher as the primary source. This edition has many reference keys, making it an extremely useful book for libraries and individuals as well. Each paragraph is numbered; each section is precisely dated with Gregorian, Julian, and years-from-the-beginning-of-the-world dates; over 10,000 footnotes from the original text have been updated to references from works in the Loeb Classical Library by Harvard Press; contains over 2,500 citations from the Bible and the Apocrypha; fully indexed; includes 8 appendixes; comes with a CD-ROM of helpful graphs and charts. The book is Smyth sewn with gilded edges, foil embossing on the front, back, and spine to give this volume a classic literary look. This book should be in the library of every scholar and every church and public library. It is a mammoth masterpiece of classic literature.
- Publisher.
- Koorong

Master Books commissioned this important literary work to be updated from the 17th-century original Latin manuscript to modern English and made available to the general public for the first time. In its pages can be found the fascinating history of the ancient world from the Genesis creation through the destruction of the Jerusalem temple.Find Out: Why was Julius Caesar kidnapped in 75 B.C.? Why did Alexander the Great burn his ships in 326 B.C.? What really happened when the sun "went backward" as a sign to Hezekiah? What does secular history say about the darkness at the Crucifixion?
- Publisher

960 Pages
- Publisher


Meet the Author
James Ussher
JAMES USSHER was born in Dublin, Ireland, in 1581. As a young man, he resolved to devote himself wholly to the work of the Church, and the Lord honored him in his resolve. Ussher entered Trinity College at thirteen, wrote a detailed work on Hebrew chronology in Latin at fifteen and graduated with a B.A. at sixteen. At eighteen he received his master's degree and was appointed proctor of the college. At twenty he was ordained a deacon and priest in the Anglican Church at Dublin. At twenty-six he received a Doctor of Divinity and shortly after that he became Professor of Divinity at Dublin,