The Apostle Paul and the Christian Life: Ethical and Missional Implications of the New Perspective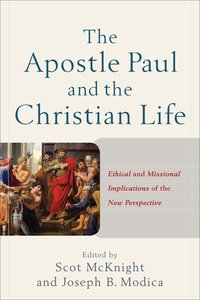 The "new perspective" on Paul, an approach that seeks to reinterpret the apostle Paul and his letters against the backdrop of first-century Judaism, has been criticized by some as not having value for ordinary Christians living ordinary lives. In this volume, world-renowned scholars explore the implications of the new perspective on Paul for the Christian life and church. James D. G. Dunn, N. T. Wright, Bruce Longenecker, Scot McKnight, and other leading New Testament scholars offer a response to this question: How does the apostle Paul understand the Christian life? The book makes a fresh contribution to the new perspective on Paul conversation and offers important new insights into the orientation of the Christian life.

- Publisher
You May Also Be Interested In
About "The Apostle Paul and the Christian Life: Ethical and Missional Implications of the New Perspective"
The "new perspective" on Paul, an approach that seeks to reinterpret the apostle Paul and his letters against the backdrop of first-century Judaism, has been criticized by some as not having value for ordinary Christians living ordinary lives. In this volume, world-renowned scholars explore the implications of the new perspective on Paul for the Christian life and church. James D. G. Dunn, N. T. Wright, Bruce Longenecker, Scot McKnight, and other leading New Testament scholars offer a response to this question: How does the apostle Paul understand the Christian life? The book makes a fresh contribution to the new perspective on Paul conversation and offers important new insights into the orientation of the Christian life.
- Publisher


Meet the Authors
Scot Mcknight (Ed)
Scot McKnight (Ph.D., University of Nottingham) is the Karl A. Olsson Professor in Religious Studies at North Park University. Prior to joining the NPU faculty in 1994, he was a professor at Trinity Evangelical Divinity School. He has written widely on the historical Jesus, Christian spirituality, and the Emerging Church. One of McKnight's more popular books, The Jesus Creed, won the Christianity Today's book award for 2004 in the area of Christian living. McKnight's blog, JesusCreed.org, has been a popular site for Emerging Church discussion.


His other publications include: The Real Mary: Why Evangelical Christians Can Embrace the Mother of Jesus; Praying with the Church: Following Jesus Daily, Hourly, Today; Jesus and His Death: Historiography, the Historical Jesus, and Atonement Theory; Embracing Grace: A Gospel for All of Us; Turning to Jesus: The Sociology of Conversion in the Gospels; The Story of the Christ, with Philip Law; and 1 Peter and Galatians in NIV Application Commentary.
His most recent publications include The Blue Parakeet: Rethinking How You Read the Bible and James (New International Commentary on the New Testament).
Table Of Contents
The "new Perspective" On Paul, An Approach That Seeks To Reinterpret The Apostle Paul And His Letters Against The Backdrop Of First-century Judaism, Has Been Criticized By Some As Not Having Value For Ordinary Christians Living Ordinary Lives. In This Volume, World-renowned Scholars Explore The Implications Of The New Perspective On Paul For The Christian Life And Church. James D. G. Dunn, N. T. Wright, Bruce Longenecker, Scot Mcknight, And Other Leading New Testament Scholars Offer A Response To This Question: How Does The Apostle Paul Understand The Christian Life? The Book Makes A Fresh Contribution To The New Perspective On Paul Conversation And Offers Important New Insights Into The Orientation Of The Christian Life.