The Apothecary's Daughter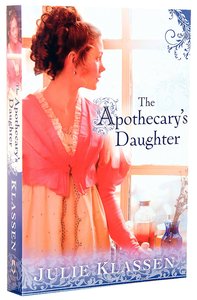 Lilly Haswell remembers everything - whether she wants to, or not. As Lilly toils in her father's apothecary, preparing herbs and remedies by rote, she is haunted by memories of her mother's disappearance. Villagers whisper the tale, but her father refuses to discuss it. All the while, she dreams of the world beyond - of travel and adventure and romance. When a relative offers to host her in London, Lilly discovers the pleasures and pitfalls of fashionable society and suitors, as well as clues about her mother. But will Lilly find what she is searching for - the truth of the past and a love for the future? Blending romance, family drama, and fascinating historical detail, The Apothecary's Daughter is a novel to savour and share. Discussion questions included.

"Klassen has captured the best of Austen and Bronte."
- Michelle Griep, Novel Reviews

"I highly recommend Lady of Milkweed Manor to anyone who delights in Regency romance."
- Tamela McCann, Historical Novels Review



- Publisher Lillian Haswell, brilliant daughter of the local apothecary, yearns for more adventure and experience than life in her father's shop and their small village provides. She also longs to know the truth behind her mother's disappearance, which villagers whisper about but her father refuses to discuss. Opportunity comes when a distant aunt offers to educate her as a lady in London. Exposed to fashionable society and romance--as well as clues about her mother--Lilly is torn when she is summoned back to her ailing father's bedside. Women are forbidden to work as apothecaries, so to save the family legacy, Lilly will have to make it appear as if her father is still making all the diagnoses and decisions. But the suspicious eyes of a scholarly physician and a competing apothecary are upon her. As they vie for village prominence, three men also vie for Lilly's heart.

- Publisher
You May Also Be Interested In
About "The Apothecary's Daughter"
Lilly Haswell remembers everything - whether she wants to, or not. As Lilly toils in her father's apothecary, preparing herbs and remedies by rote, she is haunted by memories of her mother's disappearance. Villagers whisper the tale, but her father refuses to discuss it. All the while, she dreams of the world beyond - of travel and adventure and romance. When a relative offers to host her in London, Lilly discovers the pleasures and pitfalls of fashionable society and suitors, as well as clues about her mother. But will Lilly find what she is searching for - the truth of the past and a love for the future? Blending romance, family drama, and fascinating historical detail, The Apothecary's Daughter is a novel to savour and share. Discussion questions included.

"Klassen has captured the best of Austen and Bronte."
- Michelle Griep, Novel Reviews

"I highly recommend Lady of Milkweed Manor to anyone who delights in Regency romance."
- Tamela McCann, Historical Novels Review


- Publisher

Lillian Haswell, brilliant daughter of the local apothecary, yearns for more adventure and experience than life in her father's shop and their small village provides. She also longs to know the truth behind her mother's disappearance, which villagers whisper about but her father refuses to discuss. Opportunity comes when a distant aunt offers to educate her as a lady in London. Exposed to fashionable society and romance--as well as clues about her mother--Lilly is torn when she is summoned back to her ailing father's bedside. Women are forbidden to work as apothecaries, so to save the family legacy, Lilly will have to make it appear as if her father is still making all the diagnoses and decisions. But the suspicious eyes of a scholarly physician and a competing apothecary are upon her. As they vie for village prominence, three men also vie for Lilly's heart.
- Publisher


Meet the Author
Julie Klassen
Klassen is a fiction editor with a background in advertising. Lady of Milkweed Manor is her first novel. Julie and her husband have two sons and liye in Minnesota.
Customer Reviews For "The Apothecary's Daughter"
Write Your Own Review
Interesting
By Hannah,

Sep 02 2017
I've loved every single one of Julie Klassen's books, except this one. The plot just seemed a little far-fetched for me and the characters annoying. That said, as with all her books, it was brilliantly written with beautiful descriptions drawing the reader in and a fascinating insight into the world of apothecaries in Victorian London. Just not my cup of tea.  

---
Another JK gem.
By NB,

Feb 08 2017
I love Julie Klassen's writing and found myself hooked, once again, with The Apothecary's Daughter. There is a depth and integrity to her characters and the story unfolds at a perfect pace to keep you glued to the pages. 
---
A easy read - wholesome romance
By Lisa,

Sep 16 2014
This is the 3rd Julie Klassen novel I have read and it didn't let me down.  It had great character development and I enjoyed the little tidbits of old school herbal pharmacology. 
---
Will keep you in suspense ...
By Laurey Smith,

Jul 06 2009
Courtesy of her mother's yearning for travel and adventure, Lilly Haswell dreams of more while helping her father in the apothecary store. As Lilly, spurred on by distant memories, searches for the answers to her mother's disappearance, she is swept into fashionable society where her loyalty to the mysterious doctor-in-training, her father's apprentice and her family all provide turmoil and conflict to her faith. And when two devastating and unexpected events shatter Lilly's conceptions of faith and society, it is her faith that triumphs over life's surprisingly dealt hand. 

Julie Klassen has produced a novel that keeps the reader in suspense. You'll wonder about the identity of Lilly's choice of suitor and question whether she will ever find the answers she is seeking. The constant twists and turns within The Apothecary's Daughter provide a thoroughly engaging read.

Review by Laurey Smith, Koorong Woolloongabba

{{review.title}}
By {{review.author.name}},

{{review.reviewCreatedDate | date:'MMM dd yyyy'}}

{{reviewdescription}}
{{review.text}}
---