The Ark, the Reed and the Firecloud (#01 in Amazing Tales Of Max & Liz Series)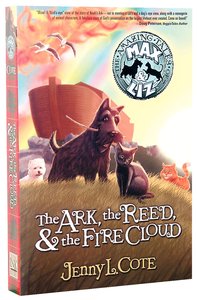 2009 Winner of the Readers Favorite Award

Max, a Scottish terrier, takes his usual morning trot down to the loch where he hears a mysterious Voice humming in the reeds saying, "Come to Me....follow the fire cloud." He embarks on an unknown journey from Scotland, meeting other animals along the way including Liz, a brilliant, petite black cat from France. Max and Liz become the brave leaders for their group, and eventually, for the entire ark. The mysterious journey, filled with danger, humor, trials, and triumphs, leads them across Europe to the Middle East. The moment of arrival for these animals is spectacular as the ark is miraculously transformed into the animals' natural habitats.

Throughout the prior one hundred years, Noah and family have to endure ridicule from villagers while building the ark. Now this family must painfully witness the loss of lives and total destruction of the earth through the mighty flood.

After the journey to the ark, the voyage in the ark begins. Liz finds ways to keep the animals occupied, including daily exercise led by the flamingos and talent night where the animals entertain each other with their natural abilities. BUT a sinister plot develops. Someone is out to kill Noah and his family. Liz follows clues that lead her to discover a stowaway who has deceived them all. Max and Liz foil the plot, but at a high price. The end climaxes with unexpected twists and turns, taking the reader from despair to hope.

The book targets the 8-12 age market, but like The Chronicles of Narnia and Dragons in Our Midst, readership is for all ages. Children, teens, and adults have read the working draft with positive feedback.

"It is the coolest animal adventure I ever heard. Your book is neat and has tons of adventure."
- Maya (3rd grade)

"I really enjoyed your characters. I like Max. You'll probably win a giant award!"
- Emelia (3rd grade)

"This is a book I'll read over and over!"
(4th grade)

"This book is good and funny, so people would like it cause it teaches us about God."
(4th grade)

"This book is magical!"
- Janice, 70 "

A surreal adventure through time. I felt like I was another passenger on the voyage! I was engulfed in the story and couldn't wait for the next page."
- Casey, 45


- Publisher
You May Also Be Interested In
About "The Ark, the Reed and the Firecloud (#01 in Amazing Tales Of Max & Liz Series)"
2009 Winner of the Readers Favorite Award

Max, a Scottish terrier, takes his usual morning trot down to the loch where he hears a mysterious Voice humming in the reeds saying, "Come to Me....follow the fire cloud." He embarks on an unknown journey from Scotland, meeting other animals along the way including Liz, a brilliant, petite black cat from France. Max and Liz become the brave leaders for their group, and eventually, for the entire ark. The mysterious journey, filled with danger, humor, trials, and triumphs, leads them across Europe to the Middle East. The moment of arrival for these animals is spectacular as the ark is miraculously transformed into the animals' natural habitats.

Throughout the prior one hundred years, Noah and family have to endure ridicule from villagers while building the ark. Now this family must painfully witness the loss of lives and total destruction of the earth through the mighty flood.

After the journey to the ark, the voyage in the ark begins. Liz finds ways to keep the animals occupied, including daily exercise led by the flamingos and talent night where the animals entertain each other with their natural abilities. BUT a sinister plot develops. Someone is out to kill Noah and his family. Liz follows clues that lead her to discover a stowaway who has deceived them all. Max and Liz foil the plot, but at a high price. The end climaxes with unexpected twists and turns, taking the reader from despair to hope.

The book targets the 8-12 age market, but like The Chronicles of Narnia and Dragons in Our Midst, readership is for all ages. Children, teens, and adults have read the working draft with positive feedback.

"It is the coolest animal adventure I ever heard. Your book is neat and has tons of adventure."
- Maya (3rd grade)

"I really enjoyed your characters. I like Max. You'll probably win a giant award!"
- Emelia (3rd grade)

"This is a book I'll read over and over!"
(4th grade)

"This book is good and funny, so people would like it cause it teaches us about God."
(4th grade)

"This book is magical!"
- Janice, 70 "

A surreal adventure through time. I felt like I was another passenger on the voyage! I was engulfed in the story and couldn't wait for the next page."
- Casey, 45


- Publisher
- Koorong

Max the dog and Liz the cat become the brave leaders of a group of animals called to journey to the Ark.
- Publisher

A magical adventure of animals traveling worldwide to Noah's ark and their year spent aboard where heroes Max and Liz foil a plot by a third stowaway snake to finish off the human race by wiping out Noah's family.
- Publisher


Meet the Author
Jenny L Cote
Jenny Cote developed an early passion for God, history, and young people, and beautifully blends these passions together in her latest book. Her first book, Now I Sea!, is an inspirational book of sea stories and spiritual reflections. Jenny's education and career have focused on strategic planning and marketing in healthcare and church work. She now writes full time and lives in Roswell, Georgia, with her husband Casey, and son Alex. She is active in student ministry at Dunwoody Baptist Church.
Customer Reviews For "The Ark, the Reed and the Firecloud (#01 in Amazing Tales Of Max & Liz Series)"
Write Your Own Review
Great book
By Amy,

Jan 15 2017
This book is AWESOME!!!! It it now one of my faves!
---
Fabulous!
By Ana,

Oct 08 2016
Jenny L. Cote has created masterpieces with her Max and Liz series!
Captivating and enveloping, this book will enthral you all the way.
After finishing this first book, I read the others as soon as I could....and loved them as much as this one!
Animal lovers with enjoy this Biblical fiction.
Perfect for 8 or 9 year olds all the way through to young teens, this series combines well-known Bible stories with exciting adventures!
---
Gripping
By Maria,

Dec 16 2015
Bought this for my daughter who has read it cover to cover several times now. She was in her early teens when I got her this first book in the series. She loved it and couldn't wait to get her hands on the second book. She now has every book in this series and is chewing her finger nails to get her hands on the very latest! 
---
Fun reading for primary aged boys
By Daniel Yip, aged 9,

Sep 11 2013
This book is about a dog called Max. He lost his parents in a storm and got adopted Gilimon, an old goat, who taught Max about God. God spoke to Max and told him to follow a cloud of fire in the sky. Max went on many adventures and met lots of friends as God led him to the ark Noah built. On the ark all the rooms magically turn in to the right habitats for the animals. I loved this first book in the series of Max and Liz. My Mum helped me read a little to start with as I was only 7 at the time, and then I got into the book and read the rest of the 3 books in the series by myself when I was 8. It was fun and exciting reading about the places Max went to. I enjoyed how the story took facts from the bible and made them come to life. I also like this book because it wasn't scary. I can't wait for the next book in the series to be published. Even though reading is not my favourite pass time, I know I will spend all day reading the next book until I am finished it.
---
Max and Liz
By Adele,

Dec 05 2012
This book is the first one in the Max and Liz series by Jenny T Cote. My 10 yr old son found it entralling and loved to tell me about each character as they were introduced in the narrative and what happened to them. More than that, he was encouraged by this book to consider what he thought about the events occuring and how they related to his own Christian life. An excellent novel... we cant wait to read them all.

{{review.title}}
By {{review.author.name}},

{{review.reviewCreatedDate | date:'MMM dd yyyy'}}

{{reviewdescription}}
{{review.text}}
---
Other Titles In The "Amazing Tales Of Max & Liz Series" Series