The Artisan's Wife (#03 in Refined By Love Series)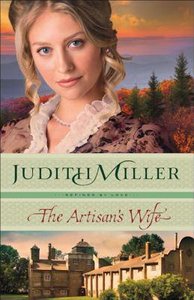 Delightful Blend of History and Romance

Ainslee McKay's world is shaken when she discovers her twin sister has not only eloped with a man she barely knows but now Ainslee must fulfill their obligation at a tile works in Weston, West Virginia. Ainslee must learn the ropes and, if she can keep the tile works profitable, her brother will help her sell the business.

When Levi Judson arrives and shows Ainslee his designs for new tiles, she's impressed by his skill and passion for the business. But he's hiding his true reason for coming to Weston. And Ainslee knows he'd be crushed to learn his plans for a long career at McKay Tile Works are in vain since she intends to sell. Can the growing feelings between them survive if the truth comes to light--or is a future together as untenable as the future of the tile works itself?

- Publisher
You May Also Be Interested In
About "The Artisan's Wife (#03 in Refined By Love Series)"
Delightful Blend of History and Romance

Ainslee McKay's world is shaken when she discovers her twin sister has not only eloped with a man she barely knows but now Ainslee must fulfill their obligation at a tile works in Weston, West Virginia. Ainslee must learn the ropes and, if she can keep the tile works profitable, her brother will help her sell the business.

When Levi Judson arrives and shows Ainslee his designs for new tiles, she's impressed by his skill and passion for the business. But he's hiding his true reason for coming to Weston. And Ainslee knows he'd be crushed to learn his plans for a long career at McKay Tile Works are in vain since she intends to sell. Can the growing feelings between them survive if the truth comes to light--or is a future together as untenable as the future of the tile works itself?
- Publisher


Meet the Author
Judith Miller
Judith Miller is an award-winning author whose avid research and love for history are reflected in her novels, two of which have placed in the CBA top ten lists. In addition to her writing, Judy is a certified legal assistant. Judy and her husband make their home in Topeka, Kansas.
Other Titles In The "Refined By Love" Series