The Attentive Life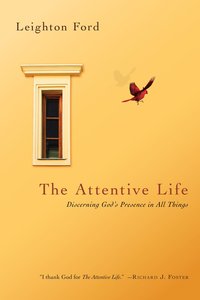 Your attention, please. That's what God wants, Leighton Ford discovered. It's the path to becoming like Christ. Distractions, fear and busyness were keeping Ford from seeing God's work in and around him. He was missing God. So he began a journey of longing and looking for God. And it started with paying attention. In these pages, he invites you to journey with him. Using the rich monastic tradition of praying the hours, Ford will walk with you, helping you pay attention to God's work in you and around you throughout each day and in different seasons of your life. If you're busy, distracted, rushing through each day, you might be feeling disconnected from God, unable to see how he's working. You might be missing him. But the way toward him starts with a pause and a prayer-with intention and attention-and becomes a way of life, awake and alive to the peaceful, powerful presence of God.

- Publisher
You May Also Be Interested In
About "The Attentive Life"
Your attention, please. That's what God wants, Leighton Ford discovered. It's the path to becoming like Christ. Distractions, fear and busyness were keeping Ford from seeing God's work in and around him. He was missing God. So he began a journey of longing and looking for God. And it started with paying attention. In these pages, he invites you to journey with him. Using the rich monastic tradition of praying the hours, Ford will walk with you, helping you pay attention to God's work in you and around you throughout each day and in different seasons of your life. If you're busy, distracted, rushing through each day, you might be feeling disconnected from God, unable to see how he's working. You might be missing him. But the way toward him starts with a pause and a prayer-with intention and attention-and becomes a way of life, awake and alive to the peaceful, powerful presence of God.
- Publisher


Meet the Author
Leighton Ford
Leighton Ford heads Leighton Ford Ministries, which seeks to help young leaders worldwide to lead more like Jesus and more to Jesus. For many years, Ford communicated Christ around the globe through speaking, writing and media outreach. He describes his current mission to be "an artist of the soul and a friend on the journey." He is the author of Transforming Leadership and most recently, The Attentive Life.
Table Of Contents
Your Attention, Please. That's What God Wants, Leighton Ford Discovered. It's The Path To Becoming Like Christ. Distractions, Fear And Busyness Were Keeping Ford From Seeing God's Work In And Around Him. He Was Missing God. So He Began A Journey Of Longing And Looking For God. And It Started With Paying Attention. In These Pages, He Invites You To Journey With Him. Using The Rich Monastic Tradition Of Praying The Hours, Ford Will Walk With You, Helping You Pay Attention To God's Work In You And Around You Throughout Each Day And In Different Seasons Of Your Life. If You're Busy, Distracted, Rushing Through Each Day, You Might Be Feeling Disconnected From God, Unable To See How He's Working. You Might Be Missing Him. But The Way Toward Him Starts With A Pause And A Prayer-with Intention And Attention-and Becomes A Way Of Life, Awake And Alive To The Peaceful, Powerful Presence Of God.

One Who Paid Attention: C. S. Lewis Looking Along A Beam

1. Paying Attention: The Hours Of Our Lives

One Who Paid Attention: Simone Weil On A Postage Stamp

2. The Birthing Hour: Time Before Time

One Who Paid Attention: Vincent Donovan--the Masai Chief, The Missionary And The Lion God

3. Daybreak: The Hour Of Beginnings

One Who Paid Attention: The Teacher Who Took Off His Hat

4. Prime Time: Our Root System

One Who Paid Attention: My Spiritual Director Dog

5. Active Life: A Slower Pace In A Faster World

One Who Paid Attention: Kierkegaard's Lanterns, Fireworks And Stars

6. The Noonday Demon: Our Distractible Selves

One Who Paid Attention: How Mother Teresa Kept Going

Holy Stillness: An Interlude

7. When Shadows Come: Darkness Comes Early

One Who Paid Attention: Jerry Sittser Trying To Catch The Sun

8. Lighting The Lamps: The House With Golden Windows

One Who Paid Attention: Nouwen, A Restless Prophet

9. Grandfather Time: When Evening Comes

One Who Paid Attention: Hwee Hwee Tan, Becoming What We Look At

Epilogue: The Journey Home

Appendix: Observing The Hours

Notes

In Attention To Gratitude

Permissions