The Awakening of Hope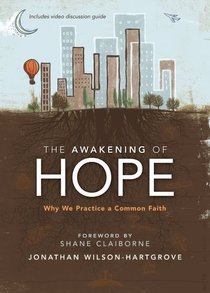 According to Jonathan Wilson-Hartgrove, faithful action is always inspired and sustained by common convictions---the basic truths that have sustained God's people throughout every generation. The Awakening of Hope re-presents Christian faith by beginning with stories of faithful witness and asking, Why? Why do Christians eat together? Why do we fast? Why would we rather die than kill? These are the questions that help us see why creation and the fall, covenant and community, ethics and evangelism matter. This book and its accompanying DVD project is a contemporary catechism, celebrating lives and stories that wouldn't make sense if the gospel were not true. And then going one step further, this project shares the good news of Jesus and the way of life that he makes possible.

- Publisher
You May Also Be Interested In
About "The Awakening of Hope"
According to Jonathan Wilson-Hartgrove, faithful action is always inspired and sustained by common convictions---the basic truths that have sustained God's people throughout every generation. The Awakening of Hope re-presents Christian faith by beginning with stories of faithful witness and asking, Why? Why do Christians eat together? Why do we fast? Why would we rather die than kill? These are the questions that help us see why creation and the fall, covenant and community, ethics and evangelism matter. This book and its accompanying DVD project is a contemporary catechism, celebrating lives and stories that wouldn't make sense if the gospel were not true. And then going one step further, this project shares the good news of Jesus and the way of life that he makes possible.
- Publisher


Meet the Author
- Wilson Jonathan Hartgrove
Jonathan Wilson-Hartgrove (M.Div., Duke Divinity School) is director of the School for Conversion in Durham, North Carolina, where he is a member of the Rutba House new monastic community. He is the author of To Baghdad and Beyond, Free to be Bound, New Monasticism: What It Has to Say to Today's Church, Becoming the Answer to Our Prayers, and most recently God's Economy:Redefining the Health and Wealth Gospel, and the co-author of Inhabiting the Church: Biblical Wisdom for a New Monasticism. He is also the coeditor of School(s) for Conversion: 12 Marks of a New Monasticism. Catch up with him at newmonasticism.org.
Koorong - Editorial Review.