The Bachelor's Bargain (#02 in Miss Pickworth Series)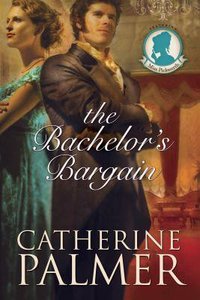 Best-selling author Catherine Palmer brings readers another stand-alone Regency-period romance in the vein of Jane Austen. When Ruel Chouteau returns home after his supposed death, he shocks everyone. They are even more surprised when he mock-proposes to a common housemaid as proof that no woman in her right mind would marry him. Anne Webster is no ordinary woman, and when she is shot through the leg, it appears that she will surely die. She decides to accept Ruel's proposal so he will be obligated to save and provide for her family. Since he will have a year to mourn her death, Ruel will be spared the hounding from his family and the many families of single women in the community. But after the marriage on Anne's deathbed, she surprises them all by returning to full health! Now Ruel and Anne must face a future they never expected!

- Publisher Can a length of lace - A?A?more air than thread - A?A?be her family - A?A?s salvation? Housemaid Anne Webster will stop at nothing to save her family from their dire circumstances. Even if it means accepting the proposal of the roguish Ruel Chouteau, Marquess of Blackthorne, who has just returned to England from the Americas under a veil of mystery. Both have their own agendas - A?A?she to use his riches, and he to use her lace-making skills - A?A?but neither could have dreamed what they would discover on the other side of their scheming. As always, society tattler Miss Pickworth has a thing or two to say about this scandalous union. Unless they want their plans aired in her column, Anne and Ruel must keep their banter to a minimum and play the role of a happy couple. He - A?A?s handsome and arrogant; she - A?A?s smart and obstinate. But can Anne and Ruel put their differences aside to fend off an unexpected foe?

- Publisher
You May Also Be Interested In
About "The Bachelor's Bargain (#02 in Miss Pickworth Series)"
Best-selling author Catherine Palmer brings readers another stand-alone Regency-period romance in the vein of Jane Austen. When Ruel Chouteau returns home after his supposed death, he shocks everyone. They are even more surprised when he mock-proposes to a common housemaid as proof that no woman in her right mind would marry him. Anne Webster is no ordinary woman, and when she is shot through the leg, it appears that she will surely die. She decides to accept Ruel's proposal so he will be obligated to save and provide for her family. Since he will have a year to mourn her death, Ruel will be spared the hounding from his family and the many families of single women in the community. But after the marriage on Anne's deathbed, she surprises them all by returning to full health! Now Ruel and Anne must face a future they never expected!
- Publisher

Can a length of lace - A?A?more air than thread - A?A?be her family - A?A?s salvation? Housemaid Anne Webster will stop at nothing to save her family from their dire circumstances. Even if it means accepting the proposal of the roguish Ruel Chouteau, Marquess of Blackthorne, who has just returned to England from the Americas under a veil of mystery. Both have their own agendas - A?A?she to use his riches, and he to use her lace-making skills - A?A?but neither could have dreamed what they would discover on the other side of their scheming. As always, society tattler Miss Pickworth has a thing or two to say about this scandalous union. Unless they want their plans aired in her column, Anne and Ruel must keep their banter to a minimum and play the role of a happy couple. He - A?A?s handsome and arrogant; she - A?A?s smart and obstinate. But can Anne and Ruel put their differences aside to fend off an unexpected foe?
- Publisher


Meet the Author
Catherine Palmer
Catherine Palmer has published more than 40 novels, most of them national best-sellers. Cathrine has won numerous awards for her writing, including the Christy Award - the highest honour in Christian fiction - for A Touch of Betrayal. In 2204 she was given the Career Achievement Award for inspirational romance by Romantic Times Book Reviews magazine. More than two million copies of her novels are currenly in prints. She lives in Missouri with her husband and two sons. She is a graduate of Southwest Baptist University and has a masters degree in English from Baylor University. - Publisher.
Customer Reviews For "The Bachelor's Bargain (#02 in Miss Pickworth Series)"
Write Your Own Review
Love it!
By Audrey,

Nov 01 2012
I just loved reading this book. It is one of those books that you wish you can read over, but now you know the plot and it kinda spoils the read. It did not however stop me from going back after reading it to re-read some of the good parts....
The characters were all exciting and they felt real. The 2 main characters had some lively dialogues that I loved. I think my only regret about the book is the ending. It felt in a way that the writer where getting a bit weary and just wanted to finish the book for the sake of finishing it.
But all in all it was an highly enjoyable book.
{{review.title}}
By {{review.author.name}},

{{review.reviewCreatedDate | date:'MMM dd yyyy'}}

{{reviewdescription}}
{{review.text}}
---
Other Titles In The "Miss Pickworth Series" Series