The Baker Compact Bible Dictionary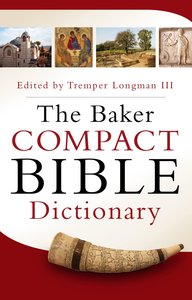 What do you do when you need a quick, compact, and convenient resource for helping you understand biblical books, people, places, imagery, or topics? Now readers can turn to The Baker Compact Bible Dictionary. It provides students of the Bible with quick access to the essential information needed to read the Bible with increased understanding and confidence.

Carefully selected and abridged from The Baker Illustrated Bible Dictionary, this dictionary is truly portable, yet packed with more than 1,000 clear and accurate entries that draw on up-to-date evangelical scholarship in biblical studies, archaeology, geography, history, and theology. For anyone who studies the Bible, this little dictionary will prove to be a trove of information to aid in personal study and in preparation for teaching.

- Publisher
You May Also Be Interested In
About "The Baker Compact Bible Dictionary"
What do you do when you need a quick, compact, and convenient resource for helping you understand biblical books, people, places, imagery, or topics? Now readers can turn to The Baker Compact Bible Dictionary. It provides students of the Bible with quick access to the essential information needed to read the Bible with increased understanding and confidence.

Carefully selected and abridged from The Baker Illustrated Bible Dictionary, this dictionary is truly portable, yet packed with more than 1,000 clear and accurate entries that draw on up-to-date evangelical scholarship in biblical studies, archaeology, geography, history, and theology. For anyone who studies the Bible, this little dictionary will prove to be a trove of information to aid in personal study and in preparation for teaching.
- Publisher


Meet the Author
Tremper Iii Longman (Ed)
Tremper Longman III (Ph.D., Yale University) is Robert H. Gundry Professor of Biblical Studies at Westmont College in Santa Barbara, California. He is also Visiting Professor of Old Testament at Mars Hill Graduate School, Westminster Theological Seminary and adjunct of Old Testament at Fuller Theological Seminary. He lectures regularly at Mars Hill, Regent College in Vancouver and the Canadian Theological Seminary in Calgary.
He is the author of commentaries on The Book of Job (Baker Commentary on the Old Testament Wisdom and Psalms) along with the published volume on Proverbs; Exodus (The Two Horizons Old Testament Commentary) and Jeremiah, Lamentations (New International Biblical Commentary), Daniel, Proverbs, Ecclesiastes and Song of Songs.
Longman is the author of How to Read Genesis, How to Read the Psalms, How to Read Proverbs and Literary Approaches to Biblical Interpretation, and co-editor of A Complete Literary Guide to the Bible and co-author with Dan Allender of Bold Love, Cry of the Soul, Intimate Allies, The Intimate Mystery and The Intimate Marriage Bible Studies.