The Baker Compact Dictionary of Theological Terms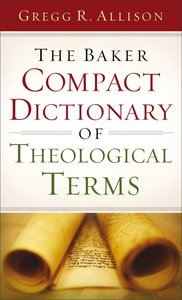 Quickly Find and Understand Key Theological Terms

Christianity is a faith built upon the Word and understood through words, both written and spoken, handed down for centuries. But many of the terms used in both the Scriptures and theological writings are unfamiliar or misunderstood. For the Christian desiring a more clear and robust understanding of these terms, this book offers concise definitions of six hundred of the most significant words at the heart of the Christian faith, including terms related to:

· doctrine (e.g., the atonement, the church)
· biblical concepts (e.g., Messiah, Son of Man)
· church practices (e.g., anointing of the sick, immersion)
· philosophical concepts (e.g., a priori, compatibilism)
· people (e.g., Thomas Aquinas, John Wesley)
· councils (e.g., Councils of Nicea I and II, Council of Trent)
· movements (e.g., Protestantism, Pentecostalism)
· documents (e.g., the Chalcedonian Creed, Chicago Statement on Biblical Inerrancy)
· and more

Students of the Bible, college and seminary students, and anyone who desires to deepen their understanding of the Christian faith will find this an indispensable resource.

The dictionary also includes an appendix listing the French, German, and Korean translations of approximately three hundred theological terms.

- Publisher
You May Also Be Interested In
About "The Baker Compact Dictionary of Theological Terms"
Quickly Find and Understand Key Theological Terms

Christianity is a faith built upon the Word and understood through words, both written and spoken, handed down for centuries. But many of the terms used in both the Scriptures and theological writings are unfamiliar or misunderstood. For the Christian desiring a more clear and robust understanding of these terms, this book offers concise definitions of six hundred of the most significant words at the heart of the Christian faith, including terms related to:

· doctrine (e.g., the atonement, the church)
· biblical concepts (e.g., Messiah, Son of Man)
· church practices (e.g., anointing of the sick, immersion)
· philosophical concepts (e.g., a priori, compatibilism)
· people (e.g., Thomas Aquinas, John Wesley)
· councils (e.g., Councils of Nicea I and II, Council of Trent)
· movements (e.g., Protestantism, Pentecostalism)
· documents (e.g., the Chalcedonian Creed, Chicago Statement on Biblical Inerrancy)
· and more

Students of the Bible, college and seminary students, and anyone who desires to deepen their understanding of the Christian faith will find this an indispensable resource.

The dictionary also includes an appendix listing the French, German, and Korean translations of approximately three hundred theological terms.
- Publisher


Meet the Author
Gregg Allison
Dr. Gregg Allison (Ph.D., Trinity Evangelical Divinity School) is Professor of Christian Theology at The Southern Baptist Theological Seminary in Louisville, Kentucky. He came to Southern from Western Seminary in Portland, Oregon, where he had taught theology and church history for nine years. He has also served as adjunct faculty at Trinity Evangelical Divinity School, Deerfield, IL; Elgin Community College, Elgin, IL; Judson College, Elgin, IL; and Institute of Biblical Studies, Western Europe.
He is the author of Historical Theology: An Introduction to Christian Doctrine; Getting Deep: Understand What You Believe About God and Why; Jesusology: Understand What You Believe About Jesus and Why; and A Theology for Christian Education (with James Estep and Michael Anthony).
Koorong - Editorial Review.