The Beginner's Guide to Intercessory Prayer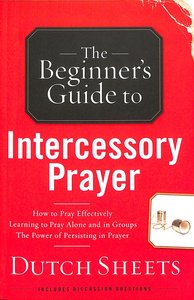 $

12.99

$

10.39
You Save: $2.60 (20%)
Paperback
:Learn to Make Prayer Simple and Effective

What is intercessory prayer? How does a person become an intercessor? When you don't know where to begin, start with the basics! In The Beginner's Guide to Intercessory Prayer, you'll learn to find your motivation for prayer in the power of love by first and foremost experiencing a lasting relationship with God as Father and friend. As Dutch Sheets lays the foundation for our motivation to pray, he teaches that our relationship with Christ doesn't need to be complex--it can be a simple act of pure devotion. In The Beginner's Guide to Intercessory Prayer, you will learn the 13 "P's" of intercession, which include priority, pleasure, plan, and pain, and be challenged to practice what you have learned through the "Did You Understand" questions at the end of each chapter. Make intercessory prayer a part of your life by learning to pray effectively, by learning to pray alone and in groups, and by persisting in prayer.

- Publisher
You May Also Be Interested In
About "The Beginner's Guide to Intercessory Prayer"
:Learn to Make Prayer Simple and Effective

What is intercessory prayer? How does a person become an intercessor? When you don't know where to begin, start with the basics! In The Beginner's Guide to Intercessory Prayer, you'll learn to find your motivation for prayer in the power of love by first and foremost experiencing a lasting relationship with God as Father and friend. As Dutch Sheets lays the foundation for our motivation to pray, he teaches that our relationship with Christ doesn't need to be complex--it can be a simple act of pure devotion. In The Beginner's Guide to Intercessory Prayer, you will learn the 13 "P's" of intercession, which include priority, pleasure, plan, and pain, and be challenged to practice what you have learned through the "Did You Understand" questions at the end of each chapter. Make intercessory prayer a part of your life by learning to pray effectively, by learning to pray alone and in groups, and by persisting in prayer.
- Publisher


Meet the Author
Dutch Sheets
Dutch Sheets is the Senior Pastor of Springs Harvest Fellowship in Colorado Springs, Colorado. He has served on the faculty of Christ for the Nations Institute, and now serves as an instructor for Destiny Bible School and is a guest lecturer for Wagner Leadership Institute. He serves on many ministry boards and is a best selling author with books including Intercessory Prayer, Watchman Prayer and How to Pray for Lost Loved Ones among others. He travels across America and other nations challenging believers for passionate prayer and world-changing revival. Dutch and his wife, Ceci, and their daughters, Sarah and Hannah, make their home in Colorado Springs. - Publisher.