The Beginner's Guide to the Gift of Prophecy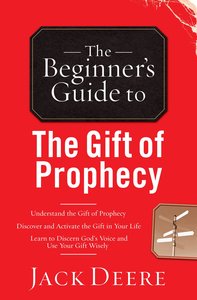 An authentic gift of prophecy: What is it? Who has it? Can you hear God's voice for yourself? In The Beginner's Guide to the Gift of Prophecy, Jack Deere describes the operation of the prophetic gift in the church today. He offers not only a balanced overview of the role of prophecy in the Christian community, but also practical information to help readers discern the authenticity of prophecies and learn to exercise the gift themselves. Topics covered include learning how God speaks, understanding His messages, avoiding prophetic craziness, giving prophetic messages, discerning deceptions, demons, and false prophets and growing in your prophetic gift.

- Publisher
You May Also Be Interested In
About "The Beginner's Guide to the Gift of Prophecy"
An authentic gift of prophecy: What is it? Who has it? Can you hear God's voice for yourself? In The Beginner's Guide to the Gift of Prophecy, Jack Deere describes the operation of the prophetic gift in the church today. He offers not only a balanced overview of the role of prophecy in the Christian community, but also practical information to help readers discern the authenticity of prophecies and learn to exercise the gift themselves. Topics covered include learning how God speaks, understanding His messages, avoiding prophetic craziness, giving prophetic messages, discerning deceptions, demons, and false prophets and growing in your prophetic gift.
- Publisher


Meet the Author
Jack Deere
Jack Deere Th.D., (Dallas) is currently the senior pastor of Wellspring Church in North Richland Hills, Texas. In 1976, he was invited to join the faculty of Dallas Seminary teaching Hebrew and books of the Bible in Hebrew. During his tenure at Dallas Seminary, he started and pastored two churches. In 1986 after months of concentrated scriptural study, Jack reversed his position on the supernatural gifts of the Holy Spirit. He became convinced that all of the gifts of the Spirit were meant to be used today, including healing and prophecy. God had never withdrawn these gifts, rather many in the church had withdrawn from the gifts.He has written best selling books Surprised by the Power of the Spirit, Surprised by the Voice of God and The Gift of Prophecy, which have been translated into a number of languages He travels national and internationally doing conferences on many themes. He serves on the boards of a number of Christian ministries.