The Believer's Secret of Christian Love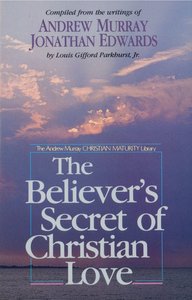 Utilizing his extensive editing and compiling skills, L.G. Parkhurst, Jr. has combined Andrew Murray's small "Secret" book on brotherly love with excerpts from Jonathan Edwards' book Charity and Its Fruits. Murray's devotional style is evident and readers may be surprised to find devotional beauty and depth also from Edwards, known primarily as one of America's most important theologians and a fiery evangelist.

Both Murray and Edwards show how the Spirit must bear the fruits of love in the Christian's life and how this is possible. Edwards' writing was probably accomplished while he was enduring devastating hatred and persecution in the community where he had pastored a church for twenty-three years. Believers will be encouraged to live up to the example of Christ.

- Publisher
You May Also Be Interested In
About "The Believer's Secret of Christian Love"
Utilizing his extensive editing and compiling skills, L.G. Parkhurst, Jr. has combined Andrew Murray's small "Secret" book on brotherly love with excerpts from Jonathan Edwards' book Charity and Its Fruits. Murray's devotional style is evident and readers may be surprised to find devotional beauty and depth also from Edwards, known primarily as one of America's most important theologians and a fiery evangelist.

Both Murray and Edwards show how the Spirit must bear the fruits of love in the Christian's life and how this is possible. Edwards' writing was probably accomplished while he was enduring devastating hatred and persecution in the community where he had pastored a church for twenty-three years. Believers will be encouraged to live up to the example of Christ.
- Publisher


Meet the Author
Andrew Murray
South African pastor and author Andrew Murray, (1828-1917), one of four children was raised in the most remote corner of the world - Graaff-Reinet (near the Cape), South Africa, It was here, after his formal education in Scotland and three years of theological study,in Holland, that Andrew Murray returned as a missionary and minister. Murray's first appointment was to a remote and unattractive territory of nearly 50,000 square miles and 12,000 people.
In 1873, he helped to establish the Huguenot Seminary for girls. He also served as the first president of the Young Men's Christian Fellowship (YMCA).
Not only was Andrew Murray the author of over 240 books, he was also a man of great prayer. He began writing on the "deeper Christian life" - a favorite subject for Murray - for his congregation as an extension of his local pastoral work, but he became internationally known for his books, such as With Christ in the School of Prayerand Abide in Christ, that searched men's hearts and brought them into a deep relationship with Christ. Writing with an intensity of purpose and zeal for the message of the Gospel, Murray wrote numerous books even after his retirement at age seventy-eight. .- Publisher.