The Bible Made Impossible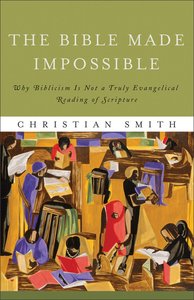 Biblicism, an approach to the Bible common among some American evangelicals, emphasizes together the Bible's exclusive authority, infallibility, clarity, self-sufficiency, internal consistency, self-evident meaning, and universal applicability. Acclaimed sociologist Christian Smith argues that this approach is misguided and unable to live up to its own claims. If evangelical biblicism worked as its proponents say it should, there would not be the vast variety of interpretive differences that biblicists themselves reach when they actually read and interpret the Bible. Far from challenging the inspiration and authority of Scripture, Smith critiques a particular rendering of it, encouraging evangelicals to seek a more responsible, coherent, and defensible approach to biblical authority.

This important book has generated lively discussion and debate. The paperback edition adds a new chapter responding to the conversation that the cloth edition has sparked.

- Publisher
You May Also Be Interested In
About "The Bible Made Impossible"
Biblicism, an approach to the Bible common among some American evangelicals, emphasizes together the Bible's exclusive authority, infallibility, clarity, self-sufficiency, internal consistency, self-evident meaning, and universal applicability. Acclaimed sociologist Christian Smith argues that this approach is misguided and unable to live up to its own claims. If evangelical biblicism worked as its proponents say it should, there would not be the vast variety of interpretive differences that biblicists themselves reach when they actually read and interpret the Bible. Far from challenging the inspiration and authority of Scripture, Smith critiques a particular rendering of it, encouraging evangelicals to seek a more responsible, coherent, and defensible approach to biblical authority.

This important book has generated lively discussion and debate. The paperback edition adds a new chapter responding to the conversation that the cloth edition has sparked.
- Publisher


Meet the Author
Smith Christian
Christian Smith (Ph.D., Harvard University) is the William R. Kenan Jr. Professor of Sociology and director of the Center for the Study of Religion and Society at the University of Notre Dame in South Bend, Indiana, where he has been cited as an outstanding faculty member. He is the award-winning author or coauthor of numerous books whose research focuses primarily on religion in modernity, adolescents, American evangelicalism, and culture.


Some of his significant titles include Moral, Believing Animals (Oxford University Press, 2003); Divided by Faith (Oxford University Press, 2000); Souls in Transition: The Religious & Spiritual Lives of Emerging Adults (Oxford University Press, 2009); Soul Searching: The Religious And Spiritual Lives Of American Teenagers (Oxford University Press, 2005) and The Bible Made Impossible: Why Biblicism Is Not a Truly Evangelical Reading of Scripture (Brazos, 2011)
Koorong -Editorial Review.