The Bible on Forgiveness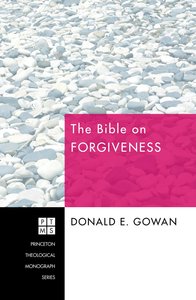 What does the Bible say about forgiveness? It is a major subject in Scripture, but it has been strangely overlooked by biblical scholars. Forgiveness is the amazing way that alienation can be healed and guilt assuaged, and there is an extensive literature on the subject, written largely by psychologists, pastoral counselors, and philosophers, but until now anyone searching those many books for a thorough treatment of the Bible's message would have been frustrated. Now in a clear and concise form, Donald E. Gowan has offered a survey of all that the Bible says about this crucial subject-from Genesis to Revelation.

- Publisher
You May Also Be Interested In
About "The Bible on Forgiveness"
What does the Bible say about forgiveness? It is a major subject in Scripture, but it has been strangely overlooked by biblical scholars. Forgiveness is the amazing way that alienation can be healed and guilt assuaged, and there is an extensive literature on the subject, written largely by psychologists, pastoral counselors, and philosophers, but until now anyone searching those many books for a thorough treatment of the Bible's message would have been frustrated. Now in a clear and concise form, Donald E. Gowan has offered a survey of all that the Bible says about this crucial subject-from Genesis to Revelation.
- Publisher


Meet the Author
Donald E Gowan
Donald E. Gowan is Robert Cleveland Holland Professor Emeritus of Old Testament at Pittsburgh Theological Seminary in Pittsburgh, Pennsylvania. He is a minister in the Presbyterian Church (U.S.A.) and has authored several books on the Old Testament, including "Theology in Exodus" and "Theology of the Prophetic Books".