The Big Book of Christian Apologetics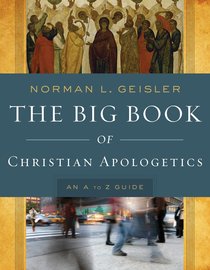 The Big Book of Christian Apologetics is a comprehensive resource designed to equip motivated believers with information to help defend and explain their faith. Examining nearly every key issue, person, and concept related to Christian apologetics, this book clarifies difficult biblical passages, clearly explains various philosophical systems and concepts, examines contemporary issues and challenges, and offers classic apologetic arguments, all with the aim of giving readers the background to intelligently and persuasively talk about their Christian faith with skeptics. An expertly abridged version of the Baker Encyclopedia on Christian Apologetics, this resource brings leading apologist Norman L. Geisler's seminal work to the masses.

- Publisher
You May Also Be Interested In
About "The Big Book of Christian Apologetics"
The Big Book of Christian Apologetics is a comprehensive resource designed to equip motivated believers with information to help defend and explain their faith. Examining nearly every key issue, person, and concept related to Christian apologetics, this book clarifies difficult biblical passages, clearly explains various philosophical systems and concepts, examines contemporary issues and challenges, and offers classic apologetic arguments, all with the aim of giving readers the background to intelligently and persuasively talk about their Christian faith with skeptics. An expertly abridged version of the Baker Encyclopedia on Christian Apologetics, this resource brings leading apologist Norman L. Geisler's seminal work to the masses.
- Publisher


Meet the Author
Norman L Geisler
Dr. Norman Geisler (Ph.D., Loyola University) is author or co-author of over sixty-eight books and hundreds of articles including Christian Apologetics; Apologetics in the New Age; Answering Islam; When Skeptics Ask; When Critics Ask; The Baker Dictionary of Apologetics; Handbook of Systematic Theology (4 volumes), Chosen But Free and When Cultists Ask. He has taught at the university and graduate level for forty eight years and has spoken or debated in all fifty states and in twenty-five countries. He is the co-founder and long-time Dean of Southern Evangelical Seminary, in Charlotte, North Carolina.