The Big Picture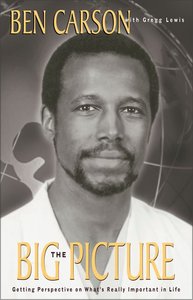 Dr. Ben Carson is known as the originator of ground-breaking surgical procedures, a doctor who turn impossible hopes into joyous realities. He is known as well as a compassionate humanitarian who reaches beyond corporate boardrooms to touch the lives of inner-city kids.What drives him? The Big Picture. A vision of something truly worth living for, something that calls forth the best of his amazing talents, energy, and focus.In The Big Picture, Dr. Carson shares with you the overarching philosophy that has shaped his life, causing him to rise from failure to far-reaching influence. This book is not about HOW to succeed--it's about WHY to succeed. It's about broadening your perspectives. It's about finding a vision for your own life that can reframe your priorities, energize your efforts, and inspire you to change the world around you.

- Publisher In "The Big Picture", Carson shares the spiritual and philosophical foundations that shaped his life, causing him to rise from defeat to far-reaching influence. This book is not about how to succeed, it's about why to succeed. It's about broadening one's perspectives, and finding a vision for life that can reframe priorities, energize efforts, and spark a desire to change the world forever.

- Publisher A renowned African-American neurosurgeon offers a rich perspective on the things that matter most -- Gifted Hands, Ben Carson's successful autobiography, inspired readers through the story of an inner-city kid with poor grades and little motivation who became director of pediatric neurosurgery at Johns Hopkins University Hospital by the age of thirty-three. In his follow-up motivational book, Think Big, Ben shared his life philosophy and a down-to-earth strategy that anyone could follow to achieve success. Now, in The Big Picture, Dr. Carson offers readers an up-close look at a professional surgeon's life - and his unique perspective on priorities, race, society, success, and living out a life of faith in a complex world. A busy man who must make life and death decisions every day, Ben Carson has learned about the importance of priorities. A successful and compassionate man at the top of the medical profession, he demonstrates with his life accomplishments what can be done when people live life according to solid biblical values. Noted for his groundbreaking work in the technologically complex field of modern neurosurgery, Dr. Carson offers a surprisingly simple formula for health, happiness, and living wisely. A black man who has reached the top of a white-coated world, Ben Carson offers a unique philosophy on achieving success, improving relations between the races, what medical breakthroughs mean to all of us, and why we must work for positive change in our troubled society. It may be just one man's perspective. But this noted surgeon's anecdotal, page-turning book can help us all get a better grasp on what's really important in life and how we can all make a difference.

- Publisher
You May Also Be Interested In
About "The Big Picture"
Dr. Ben Carson is known as the originator of ground-breaking surgical procedures, a doctor who turn impossible hopes into joyous realities. He is known as well as a compassionate humanitarian who reaches beyond corporate boardrooms to touch the lives of inner-city kids.What drives him? The Big Picture. A vision of something truly worth living for, something that calls forth the best of his amazing talents, energy, and focus.In The Big Picture, Dr. Carson shares with you the overarching philosophy that has shaped his life, causing him to rise from failure to far-reaching influence. This book is not about HOW to succeed--it's about WHY to succeed. It's about broadening your perspectives. It's about finding a vision for your own life that can reframe your priorities, energize your efforts, and inspire you to change the world around you.
- Publisher

In "The Big Picture", Carson shares the spiritual and philosophical foundations that shaped his life, causing him to rise from defeat to far-reaching influence. This book is not about how to succeed, it's about why to succeed. It's about broadening one's perspectives, and finding a vision for life that can reframe priorities, energize efforts, and spark a desire to change the world forever.
- Publisher

A renowned African-American neurosurgeon offers a rich perspective on the things that matter most -- Gifted Hands, Ben Carson's successful autobiography, inspired readers through the story of an inner-city kid with poor grades and little motivation who became director of pediatric neurosurgery at Johns Hopkins University Hospital by the age of thirty-three. In his follow-up motivational book, Think Big, Ben shared his life philosophy and a down-to-earth strategy that anyone could follow to achieve success. Now, in The Big Picture, Dr. Carson offers readers an up-close look at a professional surgeon's life - and his unique perspective on priorities, race, society, success, and living out a life of faith in a complex world. A busy man who must make life and death decisions every day, Ben Carson has learned about the importance of priorities. A successful and compassionate man at the top of the medical profession, he demonstrates with his life accomplishments what can be done when people live life according to solid biblical values. Noted for his groundbreaking work in the technologically complex field of modern neurosurgery, Dr. Carson offers a surprisingly simple formula for health, happiness, and living wisely. A black man who has reached the top of a white-coated world, Ben Carson offers a unique philosophy on achieving success, improving relations between the races, what medical breakthroughs mean to all of us, and why we must work for positive change in our troubled society. It may be just one man's perspective. But this noted surgeon's anecdotal, page-turning book can help us all get a better grasp on what's really important in life and how we can all make a difference.
- Publisher


Meet the Author
Ben Carson
Dr. Benjamin Carson MD is professor and director of paediatric neurosurgery at Johns Hopkins Medical Institutions and the author of three other bestselling books, Gifted Hands, Think Big and The Big Picture. He overcame an inner-city background to become a world renowned neurosurgeon, widely respected role model, he shares motivational insights with inner-city kids and corporate executives alike. He serves on the corporate boards of The Kellogg Company, Costco Wholesale Corp., and American's Promise among others, and is an Emeritus Fellow of the Yale Corporation. Dr. Carson holds more than 40 honorary doctorates and has been named by the Library of Congress as one of 89 Living Legends. He and his wife, Candy, have three sons and live in Baltimore County, Maryland.