The Big Picture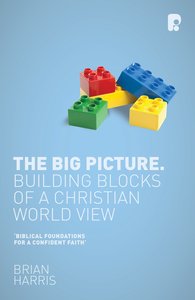 This book is an accessible exploration of the big building blocks of the Christian faith, differentiating between the important contours of a Christian worldview and secondary concerns imposed by culture and tradition.

"Skilfully bringing together biblically-informed theology and the everyday world, Brian Harris unpacks themes of grace, creation and Christian hope in an engaging conversational manner. The result is a book that empowers us to live out our faith wherever we are." Stephen Garner, Laidlaw College, Auckland, New Zealand.

- Publisher
You May Also Be Interested In
About "The Big Picture"
This book is an accessible exploration of the big building blocks of the Christian faith, differentiating between the important contours of a Christian worldview and secondary concerns imposed by culture and tradition.

"Skilfully bringing together biblically-informed theology and the everyday world, Brian Harris unpacks themes of grace, creation and Christian hope in an engaging conversational manner. The result is a book that empowers us to live out our faith wherever we are." Stephen Garner, Laidlaw College, Auckland, New Zealand.
- Publisher


Meet the Author
Brian Harris
Professor Brian Harris (BSocSc, BTh (Hons), MTh, PhD (Uni of Auckland)) is Principal of Vose Seminary, a Baptist theological college in Perth, WA. Brian has lived in both South Africa and New Zealand and has successfully been the senior pastor of three churches, each of which grew dramatically. His PhD interacts with the thought of Stanley Grenz and explores the nature and future of evangelical theology. In 2009, he commenced as senior pastor of Carey Baptist Church in conjunction with his role at Vose, giving him valuable practical pastoral insight. Brian is married to Rosemary, and has three children - Nick, Amy and Jett.