The Birth of the Church (#01 in Monarch History Of The Church Series)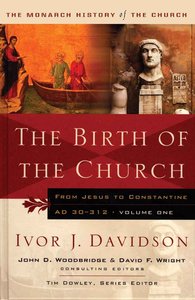 The Monarch History of the Church is an eight-volume series by world-renowned historians and theologians. Each volume offers an even-handed, comprehensive and readable assessment of the main strands of Christianity within its period. The first volume covers the period AD 30-312. During this time, the church experienced major challenges politically, culturally and intellectually, yet grew and defined itself in remarkable ways. Here is the story of Christianity's earliest shapers - men and women whose influence is still felt today.

- Publisher
You May Also Be Interested In
About "The Birth of the Church (#01 in Monarch History Of The Church Series)"
The Monarch History of the Church is an eight-volume series by world-renowned historians and theologians. Each volume offers an even-handed, comprehensive and readable assessment of the main strands of Christianity within its period. The first volume covers the period AD 30-312. During this time, the church experienced major challenges politically, culturally and intellectually, yet grew and defined itself in remarkable ways. Here is the story of Christianity's earliest shapers - men and women whose influence is still felt today.
- Publisher


Meet the Author
Ivor Davidson
Ivor Davidson is Professor of Systematic Theology. He holds distinguished degrees in Classics and Theology from the Universities of Glasgow and Edinburgh. Prior to joining the Department in 1997 he lectured at the University of St Andrews, and he has been a visiting scholar and lecturer in the UK, the USA, and Australia. His interests lie in Historical and Systematic Theology, especially in the areas of Christology, Soteriology, and Trinitarian Theology. His research is focused in two areas in particular: (a) early Christian thought/patristic theology; (b) modern Systematic Theology.He has published extensively on historical theology: his books include a large two-volume critical edition and English translation of the first 'systematic' text of Western Christian ethics, the De officiis of Ambrose of Milan (Oxford Early Christian Studies, xxv + 982pp., Oxford University Press, 2002); and two volumes on the history of early Christianity, The Birth of the Church: From Jesus to Constantine; A Public Faith: From Constantine to the Medieval World (Grand Rapids: Baker/Oxford: Monarch). He has contributed to a large variety of reference works, and to edited collections on the early Christian world.His current research includes, among other projects, the completion of two books on Christology: one on how best to give a theological account of the humanity of Christ, the other on the subject of Christ's sinlessness/obedience.
Other Titles In The "Monarch History Of The Church Series" Series
$20.01

Nett


Available for immediate download.