The Blended Marriage (Focus On The Family Marriage Series)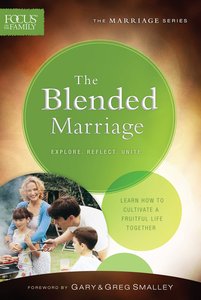 Can You Maintain Unity in Your Blended Relationship?

Bringing two families together in matrimony can be joyful, and yet chaotic, too. In The Blended Marriage, find out how keeping Christ at the center of your relationship will help you navigate the unexpected twists and turns of remarriage. You will learn to rely on God's strength and wisdom to recognize God's role in bringing you and your spouse together and his plan for your marriage, and discover the importance of making faith in God's grace key in your life. This study contains four sessions, each with four main components:

Tilling the Ground
Planting the Seed
Watering the Hope
Harvesting the Fruit

All new relationships face hurdles, but with Christ at the helm, you can rise above challenges in your beautifully blended marriage.

"We often hear that the institution of marriage is suffering. But there is good news, too! By submitting their relationships to God and seeking out the right resources, married couples can know what it means to truly thrive. That's what Focus on the Family's Marriage Series is all about. Whether you're in a small group, a mentoring relationship, or you just want to study as a couple, this series can transform your marriage for the better."--Jim Daly, President, Focus on the Family

"Marriage is an amazing adventure--filled with excitement, joy, and challenges. Focus on the Family's Marriage Series examines God's gift of marriage in all of its wonderful dimensions. I consider it a privilege to be involved with this important set of relationship-strengthening resources."--Dr. Greg Smalley, Vice President, Family Ministries, Focus on the Family

- Publisher
You May Also Be Interested In
About "The Blended Marriage (Focus On The Family Marriage Series)"
Can You Maintain Unity in Your Blended Relationship?

Bringing two families together in matrimony can be joyful, and yet chaotic, too. In The Blended Marriage, find out how keeping Christ at the center of your relationship will help you navigate the unexpected twists and turns of remarriage. You will learn to rely on God's strength and wisdom to recognize God's role in bringing you and your spouse together and his plan for your marriage, and discover the importance of making faith in God's grace key in your life. This study contains four sessions, each with four main components:

Tilling the Ground
Planting the Seed
Watering the Hope
Harvesting the Fruit

All new relationships face hurdles, but with Christ at the helm, you can rise above challenges in your beautifully blended marriage.

"We often hear that the institution of marriage is suffering. But there is good news, too! By submitting their relationships to God and seeking out the right resources, married couples can know what it means to truly thrive. That's what Focus on the Family's Marriage Series is all about. Whether you're in a small group, a mentoring relationship, or you just want to study as a couple, this series can transform your marriage for the better."--Jim Daly, President, Focus on the Family

"Marriage is an amazing adventure--filled with excitement, joy, and challenges. Focus on the Family's Marriage Series examines God's gift of marriage in all of its wonderful dimensions. I consider it a privilege to be involved with this important set of relationship-strengthening resources."--Dr. Greg Smalley, Vice President, Family Ministries, Focus on the Family
- Publisher


Meet the Authors
Gary Smalley
Gary Smalley, one of the foremost experts on family relationships, has written or co-written 28 best-selling, award winning books selling over six millions copies, as well as several popular films and videos, based on more than 30 years of experience as a teacher, counsellor and speaker. The Blessing and The Two Sides of Love have won Gold Medallions, The Language of Love won the Angel Award as the best contribution to family life and all other titles have been top-five finalists for the Gold Medallion Award. His latest book is the DNA of Relationships. Gary and his wife, Norma, have been married for over thirty years.
Greg Smalley
Greg Smalley tiene pasion por ayudar a parejas prematrimoniales y ya casadas a que aprendan a disfrutar de toda la vida juntos. El Dr. Smalley es director de ministerios para matrimonios del Centro de Enriquecimiento para las Relaciones de la Universidad John Brown y profesor asistente en estudios sobre el matrimonio y la familia.ý Greg Smalley has a passion to help premarital and married couples learn how to enjoy a lifetime together. Dr. Smalley is the director of Marriage Ministries for the Center for Relationship Enrichment on the campus of John Brown University, and assistant professor

Other Titles In The "Focus On The Family Marriage Series" Series View All