The Blessed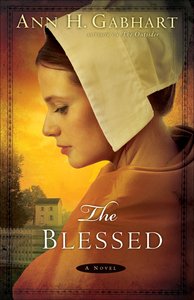 It is 1844 and Lacey Bishop's life is a tangled mess. Estranged from her own family, at age 16 she went to work for a preacher and his wife. When his wife died, the preacher convinced Lacey that the only decent thing to do was to marry him. That way she could continue to act as mother to the little girl who was left on his doorstop. But Lacey never expected he would decide to take them all off to a Shaker village. There she's still married but living in a community that believes marriage is a sin. And to make matters worse, she finds herself drawn to Isaac Kingston, a man who came to the Shakers after his young bride died. But of course any notion of love between them is only a forbidden dream. How will Lacey ever find true happiness?

Readers will find themselves engrossed in this heartrending tale of commitment and forgiveness, the latest from popular author Ann H. Gabhart.

- Publisher
You May Also Be Interested In
About "The Blessed"
It is 1844 and Lacey Bishop's life is a tangled mess. Estranged from her own family, at age 16 she went to work for a preacher and his wife. When his wife died, the preacher convinced Lacey that the only decent thing to do was to marry him. That way she could continue to act as mother to the little girl who was left on his doorstop. But Lacey never expected he would decide to take them all off to a Shaker village. There she's still married but living in a community that believes marriage is a sin. And to make matters worse, she finds herself drawn to Isaac Kingston, a man who came to the Shakers after his young bride died. But of course any notion of love between them is only a forbidden dream. How will Lacey ever find true happiness?

Readers will find themselves engrossed in this heartrending tale of commitment and forgiveness, the latest from popular author Ann H. Gabhart.
- Publisher


Meet the Author
Ann H Gabhart
Ann H. Gabhart has published a number of adult and young adult novels with several publishers. The author of The Scent of Lilacs and Orchard of Hope, Ann lives with her husband a mile from where she was born in Lawrenceburg, Kentucky.