The Blind Healer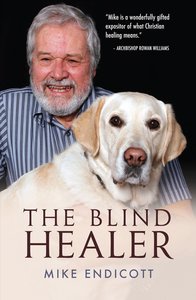 There are two remarkable aspects to Mike Endicott's work. First, his ministry is blessed with astonishing miracles; second, he suffers from retinitis pigmentosa, which led to his becoming completely blind in his mid-forties. This is his account of his life and teaching. He explains: ?I am convinced that God wants his church to have the same reputation today that Jesus had during his earthly ministry. I reckon he wants people to say the same sort of things about us that they must have said to each other about those first-generation disciples. Our ministry has to do what it says on the tin.?

- Publisher
You May Also Be Interested In
About "The Blind Healer"
There are two remarkable aspects to Mike Endicott's work. First, his ministry is blessed with astonishing miracles; second, he suffers from retinitis pigmentosa, which led to his becoming completely blind in his mid-forties. This is his account of his life and teaching. He explains: ?I am convinced that God wants his church to have the same reputation today that Jesus had during his earthly ministry. I reckon he wants people to say the same sort of things about us that they must have said to each other about those first-generation disciples. Our ministry has to do what it says on the tin.?
- Publisher


Meet the Author
Mike Endicott
Mike Endicott is a former executive in the automotive industry who founded The Well, a healing ministry at Cwmbran, South Wales (now The Order of Jacob's Well). Mike Endicott was ordained into the Anglican ministry at the express invitation of his bishop, Rowan Williams, who is Patron of the Order and currently the Archbishop of Canterbury.