The Bluebird and the Sparrow (#10 in Women Of The West (Oke) Series)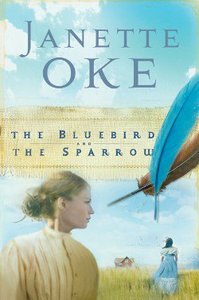 Sometimes she wished she was an only child . . . "She's lovely! Look at those curls. Those blue eyes. She's just beautiful!" Berta was used to hearing comments like that. But they were not about her. . . . Whenever ladies came to the house or met her mother on the street, they exclaimed over Berta's little sister, Glenna. Somewhere along the way, Berta decided that whatever Glenna was, she would not be. Whatever Glenna did, she would not do. Whatever Glenna liked, she would not like. She would be the opposite. Sure enough, Glenna is sparkling, vivacious, outgoing, and adored, while Berta is serious, dependable, and prim. Their relationship grows more and more distant until, finally, Berta must look into her heart and discover what truly has caused the rift between them.

- Publisher The heartwarming story of two sisters-one beautiful and vivacious and one plain and prim-whose relationship is threatened when both are attracted to the same man.

- Publisher
You May Also Be Interested In
About "The Bluebird and the Sparrow (#10 in Women Of The West (Oke) Series)"
Sometimes she wished she was an only child . . . "She's lovely! Look at those curls. Those blue eyes. She's just beautiful!" Berta was used to hearing comments like that. But they were not about her. . . . Whenever ladies came to the house or met her mother on the street, they exclaimed over Berta's little sister, Glenna. Somewhere along the way, Berta decided that whatever Glenna was, she would not be. Whatever Glenna did, she would not do. Whatever Glenna liked, she would not like. She would be the opposite. Sure enough, Glenna is sparkling, vivacious, outgoing, and adored, while Berta is serious, dependable, and prim. Their relationship grows more and more distant until, finally, Berta must look into her heart and discover what truly has caused the rift between them.
- Publisher

The heartwarming story of two sisters-one beautiful and vivacious and one plain and prim-whose relationship is threatened when both are attracted to the same man.
- Publisher


Meet the Author
Janette Oke
Janette Oke was born in Champion, Alberta, Canada, during the depression years. She graduated from Mountain View Bible College in Alberta where she met her husband, Edward. They married in 1957 and served in churches in Calgary and Edmonton, Canada, and Indiana. Oke writes historical novels which portray the lives of early North American settlers from many walks of life and geographical settings. She also writes engaging children's stories and inspiring gift books that warm the heart. Oke published her first book, Love Comes Softly, in 1979. This book experienced immediate success and became a series. She has won a number of awards including the Gold Medallion Award, The Christy Award of Excellence, the 1992 Presidents Award for her significant contribution to the category of Christian fiction from the Evangelical Christian Publishers Association, and in 1999, the Life Impact Award from the Christian Booksellers Association International. Her books have been translated into fourteen languages. Oke has published some 75 books including, The Canadian West, Seasons of the Heart and Women of the West. Her most recent releases include a beautiful childrens picture book, I Wonder...Did Jesus Have a Pet Lamb and The Songs of Acadia series, co-written with T. Davis Bunn. - Publisher.
Other Titles In The "Women Of The West (Oke) Series" Series View All