The Bondage and Liberation of the Will (Texts & Studies In Reformation & Post-reformation Thought Series)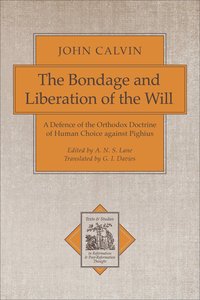 "This first English translation of an important work of John Calvin is a welcome supplement to his teachings in his Institutes."-E. Earle Ellis, Southwestern Journal of TheologyThis volume provides Calvin's fullest treatment of the relationship between the grace of God and the free will of humans. It offers insight into Calvin's interpretations of the church fathers, especially Augustine, on the topics of grace and free will and contains Calvin's answer to Pighius's objection that preaching is unnecessary if salvation is by grace alone. This important work, edited by renowned scholar A. N. S. Lane, contains material not found elsewhere in Calvin's writings and will be required reading for students of Calvin and the Protestant Reformation.

- Publisher 320 Pages

- Publisher This most significant of Calvin's works not previously translated into English answers Pighius's objection that preaching is unnecessary if salvation is by grace alone. An extensive historical introduction notes the value of this treatise.

- Publisher
You May Also Be Interested In
About "The Bondage and Liberation of the Will (Texts & Studies In Reformation & Post-reformation Thought Series)"
"This first English translation of an important work of John Calvin is a welcome supplement to his teachings in his Institutes."-E. Earle Ellis, Southwestern Journal of TheologyThis volume provides Calvin's fullest treatment of the relationship between the grace of God and the free will of humans. It offers insight into Calvin's interpretations of the church fathers, especially Augustine, on the topics of grace and free will and contains Calvin's answer to Pighius's objection that preaching is unnecessary if salvation is by grace alone. This important work, edited by renowned scholar A. N. S. Lane, contains material not found elsewhere in Calvin's writings and will be required reading for students of Calvin and the Protestant Reformation.
- Publisher

320 Pages
- Publisher

This most significant of Calvin's works not previously translated into English answers Pighius's objection that preaching is unnecessary if salvation is by grace alone. An extensive historical introduction notes the value of this treatise.
- Publisher


Meet the Author
John Calvin
John Calvin, born in 1509 and designated for the Catholic priesthood by his father, became the great French Protestant reformer famous for his doctrine of predestination and his theocratic view of the state. In Geneva, he rejected Papal authority, established a new scheme of civic and ecclesiastical governance, and created a central hub from which Reformed theology was propagated. He engaged in long bitter struggles over the independence of the Church from the State and the rules he tried to impose on Geneva as a whole. The Institutes of the Christian Religion, one of the most famous theological books ever published established Calvin's system of doctrine and Church which has shaped more minds and entered into more nations than that of any other reformer. When he died in Geneva in 1564, he left both a city and a world transformed by the impact of his ideas and beliefs. - Publisher.
Table Of Contents
Other Titles In The "Texts & Studies In Reformation & Post-reformation Thought" Series View All
$65.00




Order now to secure your copy when our stock arrives. 0 Available. Expected to ship in 6 to 7 weeks from Australia.

Formats

$69.99




Order now to secure your copy when our stock arrives. eBook is Available. 0 Available. Expected to ship in 5 to 6 weeks from Australia.

Formats