The Book of Enoch (Spck Classics Series)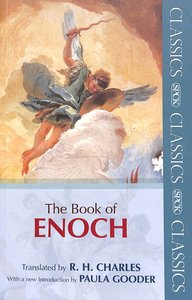 The Book of Enoch is an invaluable resource for all who are interested in the origins of Christianity. It was known and used by the earliest churches and sheds light on many concepts found in the New Testament, such as demonology, future judgment, the Messiah and the Messianic Kingdom, the title 'Son of Man' and the resurrection. This new edition of R. H. Charles's classic translation includes a substantial new introduction by Paula Gooder.

- Publisher
You May Also Be Interested In
About "The Book of Enoch (Spck Classics Series)"
The Book of Enoch is an invaluable resource for all who are interested in the origins of Christianity. It was known and used by the earliest churches and sheds light on many concepts found in the New Testament, such as demonology, future judgment, the Messiah and the Messianic Kingdom, the title 'Son of Man' and the resurrection. This new edition of R. H. Charles's classic translation includes a substantial new introduction by Paula Gooder.
- Publisher


Meet the Authors
Robert H Charles
R. H. Charles (d. 1933) was a British Biblical scholar, expert and translator of Inter-testamental literature such as the Apocrypha and Pseudepigrapha of the Old Testament, The Book of Enoch and A Critical and Exegetical Commentary on The Revelation of St John (2 Volumes).
Paula Gooder
Paula Gooder (D.Phil., University of Oxford) is a part-time tutor at the Queens Foundation for Ecumenical Theological Education in Birmingham and a freelance writer and lecturer on the Bible.


She is the author of many books including The Pentateuch (Continuum, 2000); This Risen Existence. The Spirit of Easter (Canterbury Press, 2009); A Way Through the Wilderness. God's Help in a Time of Crisis (Church House Publishing, 2009); Only The Third Heaven? 2 Corinthians 12.1-10 and Heavenly Ascent (T&T Clark, 2006); Hosea-Micah (The People's Bible Commentary; BRF, 2005) and co-author with Dr Peter Kevern of Exploring New Testament Greek (SCM Press, 2004)
She also is Canon Theologian of Birmingham Cathedral, Visiting lecturer at King's College, London, Associate lecturer at St Mellitus College, London, an Honorary Lecturer at the University of Birmingham and Senior Research Scholar at the Queen's Foundation, Birmingham. She is a Reader in the Church of England and a member of General Synod.
Koorong - Editorial Review.
Other Titles In The "Spck Classics" Series