The Book of God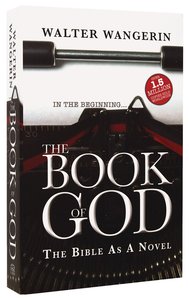 In this unique presentation of Scripture, best-selling author Walter Wangerin turns the many books of the Bible - both Old and New Testaments - into a single, unfolding narrative. As well as a rattling good read, this epic novelisation provides a wonderfully clear view of the Bible's overarching themes and structures.
You May Also Be Interested In
About "The Book of God"
In this unique presentation of Scripture, best-selling author Walter Wangerin turns the many books of the Bible - both Old and New Testaments - into a single, unfolding narrative. As well as a rattling good read, this epic novelisation provides a wonderfully clear view of the Bible's overarching themes and structures.
- Koorong

'My purpose and effort in writing this 'holy history' was always to persuade the reader to feel - to experience, in fact and in spirit - this, the greatest of stories.' This innovative, dramatic and highly readable retelling of the Bible - from the Creation to the Acts of the Apostles - in the style of an epic novel has sold 1.5 million copies worldwide. This blockbuster is now being reissued with a striking new cover for the 21st century. 'Immensely readable.' Belfast Telegraph 'Exhilarating.' Christianity Today 'Imaginative, stimulating and fresh...Above all, the work of a craftsman.' Glasgow Herald
- Publisher


Meet the Author
Walter Wangerin (Jr)
Matthew Wangerin played both high school and college basketball, serving as team captain at both levels. He enjoys public speaking and has dedicated himself to encouraging others to avoid life's pitfalls. He lives in Atlanta, Georgia, where he manages a restaurant. 'Father and Son' is his first book. A