The Book on Leadership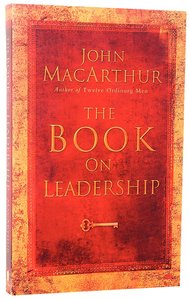 $

19.99

$

15.99
You Save: $4.00 (20%)
Paperback
In THE BOOK ON LEADERSHIP, best-selling author, pastor, and teacher John MacArthur sets the record straight: Leadership does not come from a job title, but from a much deeper source. Based on the writings of the apostle Paul, MacArthur presents the "26 Characteristics of a True Leader" for anyone at work, church, school, or home.


- Publisher Our country is facing a leadership crisis, with fewer leaders available than are needed. Even more distressing, the church is facing the same crisis. Failures in church leadership seem to be at an epidemic level, reminding us of the adage, "As the leaders go, so go the people." With so much at stake, how can we raise up effective leaders who have genuine and lasting impact on their charge? Author John MacArthur writes on more than 60 traits every leader needs. These elements of character form the framework from which MacArthur details the qualifications and responsibilities of effective leaders, no matter if they are full-time staff members or Christians seeking to serve God at church, home, work, and with friends.

- Publisher
You May Also Be Interested In
About "The Book on Leadership"
In THE BOOK ON LEADERSHIP, best-selling author, pastor, and teacher John MacArthur sets the record straight: Leadership does not come from a job title, but from a much deeper source. Based on the writings of the apostle Paul, MacArthur presents the "26 Characteristics of a True Leader" for anyone at work, church, school, or home.

- Publisher

Our country is facing a leadership crisis, with fewer leaders available than are needed. Even more distressing, the church is facing the same crisis. Failures in church leadership seem to be at an epidemic level, reminding us of the adage, "As the leaders go, so go the people." With so much at stake, how can we raise up effective leaders who have genuine and lasting impact on their charge? Author John MacArthur writes on more than 60 traits every leader needs. These elements of character form the framework from which MacArthur details the qualifications and responsibilities of effective leaders, no matter if they are full-time staff members or Christians seeking to serve God at church, home, work, and with friends.
- Publisher


Meet the Author
John Macarthur
John MacArthur, the author of numerous best selling books that have touched millions of lives, is pastor-teacher of Grace Community Church in Sun Valley, California and president of The Master's College and Seminary. He is also president of Grace to You, the ministry that produces the international radio program Grace to You and a host of print, audio, and Internet resources. He authored the notes in the Gold Medallion Award-winning The MacArthur Study Bible. John and his wife, Patricia, have four children who have given them thirteen grandchildren.- Publisher.