The Brotherhood / the Betrayal / the Breakthrough (Precinct 11 Series)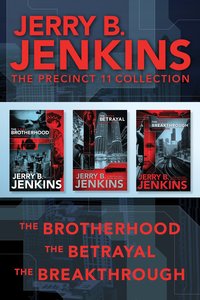 This collection bundles all three of bestselling author Jerry B. Jenkins's Precinct 11 crime/suspense novels into one e-book for a great value!

#1 The Brotherhood
Boone Drake has it made. He's a young cop rising rapidly through the ranks of the Chicago Police Department. He has a beautiful wife and a young son, a nice starter house, a great partner, and a career plan that should land him in the Organized Crime Division within five years. Everything is going right. Until everything goes horribly, terribly wrong. His personal life destroyed and his career and future in jeopardy, Boone buries himself in guilt and bitterness as his life spirals out of control. But when he comes face-to-face with the most vicious gang leader Chicago has seen in decades, he begins to realize that God is a God of second chances and can change the hardest heart ... and forgive the worst of crimes. A thought-provoking police thriller from New York Times best-selling author Jerry B. Jenkins.

#2 The Betrayal
Detective Boone Drake has just masterminded the most massive sting in Chicago history, bringing down the heads of not only the biggest street gangs in the city but also the old crime syndicate. The story is the biggest in decades, and the Chicago Police Department must protect the key witness at all costs. Despite top-secret plans to transfer the witness ahead of his testimony before the grand jury, an attempt is made on his life. And the person suspected of leaking this information may be one of the CPD's own.

#3 The Breakthrough
As the youngest bureau chief and head of the Chicago Police Department's Major Case Squad, Boone Drake seems to have it all under control. Only those closest to him know that just a few short years ago, he lost everything that mattered to him in a tragic accident. After years of healing, his life is back on track. He recently married a wonderful woman named Haeley, adopted her son, bought a beautiful home, and rediscovered his faith. But Boone can't fight the feeling that something is about to go terribly wrong ... again.

When an all-too-personal case takes Boone to Beijing at a time when Haeley can least afford to let him go, Boone is forced to make a difficult choice. There he becomes enmeshed in a dangerous human-trafficking ring that takes him through the famed Hutong District's narrow streets, alleys, and hovels. Teamed with a former Liberation Army officer, Boone has one chance to pull off an elaborate sting and rescue a young boy before he disappears forever.

- Publisher
You May Also Be Interested In
About "The Brotherhood / the Betrayal / the Breakthrough (Precinct 11 Series)"
This collection bundles all three of bestselling author Jerry B. Jenkins's Precinct 11 crime/suspense novels into one e-book for a great value!

#1 The Brotherhood
Boone Drake has it made. He's a young cop rising rapidly through the ranks of the Chicago Police Department. He has a beautiful wife and a young son, a nice starter house, a great partner, and a career plan that should land him in the Organized Crime Division within five years. Everything is going right. Until everything goes horribly, terribly wrong. His personal life destroyed and his career and future in jeopardy, Boone buries himself in guilt and bitterness as his life spirals out of control. But when he comes face-to-face with the most vicious gang leader Chicago has seen in decades, he begins to realize that God is a God of second chances and can change the hardest heart ... and forgive the worst of crimes. A thought-provoking police thriller from New York Times best-selling author Jerry B. Jenkins.

#2 The Betrayal
Detective Boone Drake has just masterminded the most massive sting in Chicago history, bringing down the heads of not only the biggest street gangs in the city but also the old crime syndicate. The story is the biggest in decades, and the Chicago Police Department must protect the key witness at all costs. Despite top-secret plans to transfer the witness ahead of his testimony before the grand jury, an attempt is made on his life. And the person suspected of leaking this information may be one of the CPD's own.

#3 The Breakthrough
As the youngest bureau chief and head of the Chicago Police Department's Major Case Squad, Boone Drake seems to have it all under control. Only those closest to him know that just a few short years ago, he lost everything that mattered to him in a tragic accident. After years of healing, his life is back on track. He recently married a wonderful woman named Haeley, adopted her son, bought a beautiful home, and rediscovered his faith. But Boone can't fight the feeling that something is about to go terribly wrong ... again.

When an all-too-personal case takes Boone to Beijing at a time when Haeley can least afford to let him go, Boone is forced to make a difficult choice. There he becomes enmeshed in a dangerous human-trafficking ring that takes him through the famed Hutong District's narrow streets, alleys, and hovels. Teamed with a former Liberation Army officer, Boone has one chance to pull off an elaborate sting and rescue a young boy before he disappears forever.
- Publisher


Meet the Author
Jerry B Jenkins
Jerry B. Jenkins, former Vice President for Publishing and currently Writer-at-Large for the Moody Bible Institute of Chicago, is the author of more than 150 books, including the best-selling Left Behind series. Sixteen of his books have reached the New York Times best-seller list and have also appeared on the USA Today, Publishers Weekly and Wall Street Journal best-seller lists. Desecration, book #9 in the Left Behind series was the best-selling novel in America in 2001. Also the former editor of Moody Magazine, his writing has appeared in dozens of Christian periodicals.His non-fiction includes as-told-to biographies of such notable men as Bill Gaither. He helped Dr. Billy Graham with his memoirs, Just As I Am, also a New York Times best seller. Jerry owns Jenkins Entertainment, a filmmaking company in Los Angeles, which produced the critically-acclaimed movie Hometown Legend based on his book of the same name. Jerry Jenkins also owns the Christian Writers Guild, which aims to train tomorrow's professional Christian writers.Under Jerry's leadership, the Guild is steadily expanding its services to include a writers' advocacy centre, college credit courses, a critique service, literary registration services, and writing contests. As a marriage and family author and speaker, Jenkins has been a frequent guest on Dr. James Dobson's Focus On the Family radio program.Jerry and his wife Dianna have three grown sons and three grandchildren. - Publisher.
Other Titles In The "Precinct 11 Series" Series
$7.40

Nett


Available for immediate download.