The Burkett & Blue Definitive Guide For Building Wealth to Last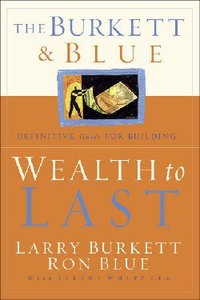 With combined sales over the past twenty years of almost twelve million books, the two most revered and trusted names in Christian finance have teamed up to create "THE book for building your solid financial future. "Wealth to Last will equip readers with the knowledge, financial tools, and wisdom needed to ensure their fiscal well-being in the second half of life. In doing so, baby boomers will be better positioned to bless those generations that follow them with a legacy of stewardship and resources. Larry Burkett and Ron Blue, the primary trailblazers and leaders in Christian financial teaching, provide definitive direction and empowered confidence in building a financial portfolio that will provide for your family and help you to honor God.

- Publisher 240 Pages

- Publisher Take control of your finances and learn to use your earthly resources for the good of God's kingdom! The two most trusted names in Christian finance share wisdom on building a financial portfolio, including providing for your family, coping with the uncertain economy, husband/wife decision-making, diversification strategies, and more.

- Publisher
You May Also Be Interested In
About "The Burkett & Blue Definitive Guide For Building Wealth to Last"
With combined sales over the past twenty years of almost twelve million books, the two most revered and trusted names in Christian finance have teamed up to create "THE book for building your solid financial future. "Wealth to Last will equip readers with the knowledge, financial tools, and wisdom needed to ensure their fiscal well-being in the second half of life. In doing so, baby boomers will be better positioned to bless those generations that follow them with a legacy of stewardship and resources. Larry Burkett and Ron Blue, the primary trailblazers and leaders in Christian financial teaching, provide definitive direction and empowered confidence in building a financial portfolio that will provide for your family and help you to honor God.
- Publisher

240 Pages
- Publisher

Take control of your finances and learn to use your earthly resources for the good of God's kingdom! The two most trusted names in Christian finance share wisdom on building a financial portfolio, including providing for your family, coping with the uncertain economy, husband/wife decision-making, diversification strategies, and more.
- Publisher


Meet the Authors
Larry Burkett
Larry Burkett was the founder and president of Christian Financial Concepts, a non-profit organization dedicated to teaching Biblical principles of money management. He was the author of over seventy books, including The Coming Economic Earthquake, Your Finances in Changing Times, The Financial Planning Workbook, Investing for the Future, Financial Parenting, and Business by the Book, with totals in excess of 11 million. Larry's ministry also included a monthly Christian newsletter and four worldwide radio broadcasts, Money Matters, How to Manage Your Money, Money Watch, and A Money Minute, Larry died in 2003.
Ron Blue
Following his graduation from Indiana University with an MBA, Ron joined the management group of Peat, Marwick, Mitchell & Co. and worked with the firm in New York City, Dallas, and San Francisco.In 1970, Ron founded an Indianapolis-based CPA firm that has grown to be one of the 50 largest CPA firms in the United States. Leaving the CPA firm in 1977, Ron became Administrative Vice President of Leadership Dynamics International. While with Leadership Dynamics, he was involved in developing and teaching Biblically-based leadership and management seminars in the United States and Africa. Convince
Jeremy White
Jeremy White is the son of the late Reggie White. He will be speaking at the Pro Football Hall of Fame during his father's induction.