The Call Youth Study Book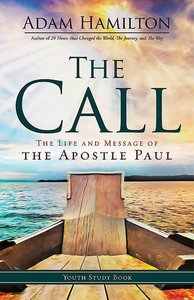 With Adam Hamilton, we have traced the life of Jesus from his birth The Journey, through his ministry The Way, to his death and resurrection 24 Hours That Changed the World. What happened next?

Follow the journeys of Paul, beginning with his dramatic conversion, as he spread the Gospel through modern-day Greece and Turkey. Travel to the early church sites and explore Paul's conversations with the Romans, Corinthians, Galatians, Ephesians, Philippians, Colossians, and Thessalonians. In this six-week study, you are invited to experience faith through Christ's greatest teacher and missionary.

Everything needed to conduct a six-session study of Paul's travels and teachings geared to youth, including current examples that have meaning to young people ages 13-18. Can be used with the adult-level DVD.

- Publisher
You May Also Be Interested In
About "The Call Youth Study Book"
With Adam Hamilton, we have traced the life of Jesus from his birth The Journey, through his ministry The Way, to his death and resurrection 24 Hours That Changed the World. What happened next?

Follow the journeys of Paul, beginning with his dramatic conversion, as he spread the Gospel through modern-day Greece and Turkey. Travel to the early church sites and explore Paul's conversations with the Romans, Corinthians, Galatians, Ephesians, Philippians, Colossians, and Thessalonians. In this six-week study, you are invited to experience faith through Christ's greatest teacher and missionary.

Everything needed to conduct a six-session study of Paul's travels and teachings geared to youth, including current examples that have meaning to young people ages 13-18. Can be used with the adult-level DVD.
- Publisher


Meet the Author
Adam Hamilton
Adam Hamilton is pastor of the United Methodist Church of the Resurrection in Leawood, Kansas, one of the fastest growing, most highly visible churches in the country. The Church Report named Hamilton's congregation the most influential mainline church in the country, and PBS's Religion and Ethics Newsweekly identified him as one of the top "Ten People to Watch." Hamilton is the author of Confronting the Controversies, Making Love Last a Lifetime, Unleashing the Word, Leading Beyond the Walls, Selling Swimsuits in the Arctic, and Christianity and World Religions, all by Abingdon Press.