The Candle Classic Bible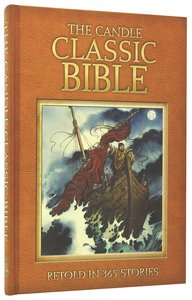 The Candle Classic Bible presents the whole Bible in 365 brief stories just right for daily reading. The text is child-friendly, yet does not resort to cute gimmicks - it stays close to the plain-spoken tone of Scripture. Alan Parry's realistic illustrations are perfectly suited to the epic drama of the biblical narrative. Ages 8+
You May Also Be Interested In
About "The Candle Classic Bible"
The Candle Classic Bible presents the whole Bible in 365 brief stories just right for daily reading. The text is child-friendly, yet does not resort to cute gimmicks - it stays close to the plain-spoken tone of Scripture. Alan Parry's realistic illustrations are perfectly suited to the epic drama of the biblical narrative. Ages 8+
- Koorong

With classic illustrations, 365 of the best-loved Bible stories will become favourites for children and parents alike. Old Testament: From the Story of Creation to Isaac, from Joseph to Ruth, from Job to David, from Elisha to the Prophets. New Testament: John the Baptist to the story of Jesus, to the story of the Apostles, to John's Vision of Heaven. Each story is divided into 'easy to read' sections with the day, heading and scripture reference. Children are encouraged to spend family time together reading a new story each day.
- Publisher


Meet the Author
Alan Parry (Illus)
Alan Parry was born in London, and studied at the Hornsey Art College in London, after which he worked in advertising. Alan and his wife Linda have been writing and illustrating children's books for over twenty years, with worldwide sales running into many millions of copies. They live in the countryside near Oxford, England.
Table Of Contents
Old Testament - The Story Of: Creation, Noah, Different Languages, Abraham, Isaac, Jacob, Joseph, Moses, Israelites, Judges, Ruth, Job, Jonah, Samuel, Saul, David, Solomon, Kings, Elijah, Elisha, Kings, Queens And Prophets, Judah, Daniel, Return From Exile, Queen Esther. New Testament - The Story Of: John The Baptist, Jesus, Apostles