The Captive (Ebook Shorts) (#01 in Legends Of The Realm Series)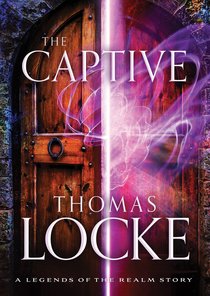 The only remnant of Joelle's former life is her name.
The only hint of her future is a foreboding vision of darkness.
And her only hope is a man she has yet to meet.

One of the last of a disappearing race, Joelle spends her days as a prisoner of the Long Hall, sweeping corridors and dusting scrolls while young wizards learn to ply their trade. In the dark of night, she practices the magical arts that are forbidden to one of her kind, hoping to soon break the spell that holds her captive.

But an evil is growing beyond the enchanted stone walls. Joelle will need much more than her own skills to escape it. Someone is coming for her. And when he arrives, he will change everything.

This short ebook excerpted from Emissary gives you a magical glimpse into the Realm--and the heroes who will stop at nothing to save it.

- Publisher
You May Also Be Interested In
About "The Captive (Ebook Shorts) (#01 in Legends Of The Realm Series)"
The only remnant of Joelle's former life is her name.
The only hint of her future is a foreboding vision of darkness.
And her only hope is a man she has yet to meet.

One of the last of a disappearing race, Joelle spends her days as a prisoner of the Long Hall, sweeping corridors and dusting scrolls while young wizards learn to ply their trade. In the dark of night, she practices the magical arts that are forbidden to one of her kind, hoping to soon break the spell that holds her captive.

But an evil is growing beyond the enchanted stone walls. Joelle will need much more than her own skills to escape it. Someone is coming for her. And when he arrives, he will change everything.

This short ebook excerpted from Emissary gives you a magical glimpse into the Realm--and the heroes who will stop at nothing to save it.
- Publisher


Meet the Author
Thomas Locke
Davis Bunn is pseudonym used by T. Davis Bunn. Bunn was born in 1952 in North Carolina. He had a finance career that took him around the globe until his first novel, The Presence, was released in 1990. The book became a national bestseller. He has written under the names of Davis Bunn as well as Thomas Locke and Cameron Wolfe. Bunn is a much sought-after speaker for the art of writing and he serves as a Writer in Residence at Regent's Park College, Oxford University.
Other Titles In The "Legends Of The Realm Series" Series View All