The Case For Easter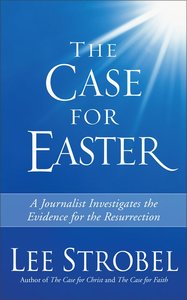 A riveting journey to the truth about the most remarkable event in history: The resurrection of Jesus Christ and the proof behind it. From the award-winning, best-selling book, The Case for Christ by Lee Strobel, this 80-page booklet is perfect for Easter or any time of the year. Sold only in twenty packs.
You May Also Be Interested In
About "The Case For Easter"
A riveting journey to the truth about the most remarkable event in history: The resurrection of Jesus Christ and the proof behind it. From the award-winning, best-selling book, The Case for Christ by Lee Strobel, this 80-page booklet is perfect for Easter or any time of the year. Sold only in twenty packs.
- Koorong

Did Jesus of Nazareth really rise from the dead?Of the many world religions, only one claims that its founder returned from the grave. The resurrection of Jesus Christ is the very cornerstone of Christianity. But a dead man coming back to life? In our sophisticated age, when myth has given way to science, who can take such a claim seriously? Some argue that Jesus never died on the cross. Conflicting accounts make the empty tomb seem suspect. And post-crucifixion sightings of Jesus have been explained in psychological terms.How credible is the evidence for?and against?the resurrection? Focusing his award-winning skills as a legal journalist on history's most compelling enigma, Lee Strobel retraces the startling findings that led him from atheism to belief. Drawing on expert testimony first shared in his blockbuster book The Case for Christ, Strobel examines:The Medical Evidence?Was Jesus? death a sham and his resurrection a hoax?The Evidence of the Missing Body?Was Jesus? body really absent from his tomb?The Evidence of Appearances?Was Jesus seen alive after his death on the cross?Written in a hard-hitting journalistic style, The Case for Easter probes the core issues of the resurrection. Jesus Christ, risen from the dead: superstitious myth or life-changing reality? The evidence is in. The verdict is up to you.
- Publisher


Meet the Author
Lee Strobel
Atheist-turned-Christian, Lee Strobel is the former award-winning legal affairs editor of The Chicago Tribune. He holds a Master of Studies in Law degree, as well as a journalism degree and was a professional journalist for 14 years, winning Illinois' top honours for investigative reporting and public service journalism from United Press International.

In 1981, after a two-year investigation of the evidence for Jesus, Lee received Christ as his Saviour, and subsequently became a teaching pastor at two of America's largest churches - Willow Creek Community Church, Chicago in 1987 and Saddleback Valley Community Church, California in 2000. In 2002 he left Saddleback's staff to focus on writing.

A New York Times best-selling author of nearly 20 books, he has been described by the Washington Post as "one of the evangelical community's most popular apologists." His journey from atheism to faith has been documented in the Gold Medallion-winning books The Case for Christ, Inside the Mind of Unchurched Harry and Mary and The Case for Faith.

His other best-sellers include Surviving a Spiritual Mismatch in Marriage, which he co-authored with his wife, Leslie; God's Outrageous Claims and What Jesus Would Say? Lee also shared the prestigious ECPA Jordon Christian Book of the Year award in 2005 for a curriculum he co-authored about the movie The Passion of the Christ.

Lee is also co-author of the Becoming a Contagious Christian training curriculum, which is used around the world. And his articles have been published in a variety of magazines, including Discipleship Journal, Marriage Partnership, The Christian Research Journal, Guideposts, and Decision. He is also a contributing editor and columnist for Outreach on-line magazine.

Lee and Leslie have been married for 33 years and live in Southern California. They have a daughter, Alison, and son Kyle who is married to Kellie, both Alison and Kyle are writers.
- Koorong