The Chance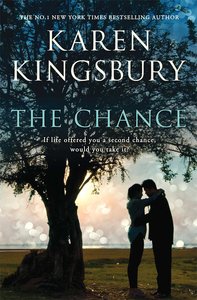 A heartwarming story about childhood friends, broken lives, and a long ago promise that just might offer the hope of love for today.

Years ago, the day before Ellie moved from Georgia to California, she and her best friend Nolan sat beneath the Spanish moss of an ancient oak tree where they wrote letters to each other, and sealed them in a rusty old metal box. The plan was to return eleven years later and read them. But now, as that date arrives, much has changed. Ellie, bereft of the faith she grew up with, is a single mom living in a tired apartment trying to make ends meet. Sometimes she watches television to catch a glimpse of her old friend -Nolan, now an NBA star, whose terrible personal tragedies fueled his faith and athletic drive in equal measure. But Nolan also suffers from a transcendent loneliness that nothing has ever eased.

In their separate lives, as Ellie and Nolan move toward the possibility of a reunion at the oak tree, Kingsbury weaves a tale of heart-wrenching loss, the power of faith, and the wounds that only love can heal.

- Publisher
You May Also Be Interested In
About "The Chance"
A heartwarming story about childhood friends, broken lives, and a long ago promise that just might offer the hope of love for today.

Years ago, the day before Ellie moved from Georgia to California, she and her best friend Nolan sat beneath the Spanish moss of an ancient oak tree where they wrote letters to each other, and sealed them in a rusty old metal box. The plan was to return eleven years later and read them. But now, as that date arrives, much has changed. Ellie, bereft of the faith she grew up with, is a single mom living in a tired apartment trying to make ends meet. Sometimes she watches television to catch a glimpse of her old friend -Nolan, now an NBA star, whose terrible personal tragedies fueled his faith and athletic drive in equal measure. But Nolan also suffers from a transcendent loneliness that nothing has ever eased.

In their separate lives, as Ellie and Nolan move toward the possibility of a reunion at the oak tree, Kingsbury weaves a tale of heart-wrenching loss, the power of faith, and the wounds that only love can heal.
- Publisher


Meet the Author
Karen Kingsbury
Karen Kingsbury is America's favorite inspirational novelist with over 5 million books in print. Her Life-Changing Fiction has produced multiple bestsellers including Even Now, One Tuesday Morning, Beyond Tuesday Morning, and the popular Redemption Series. An award-winning author and newly published songwriter, Karen has had several movies optioned for production and her Christmas novel, Gideon's Gift, is as a major motion picture.