The Character of Christian Scripture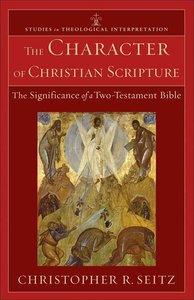 The early church received the Scriptures of Israel as Christian Scriptures and did not change them. The older testament was received as a witness to God, and when a newer testament emerged, the older was not dismissed, harmonized, or edited. Rather, the church moved forward with a two-testament witness.

Christopher Seitz, an internationally renowned expert in canonical interpretation, illuminates the two-testament character of Scripture and its significance for the contemporary church. He interacts critically with current interest in the New Testament's use of the Old Testament and addresses an issue of perennial concern: how to hear both testaments as Christian witness.

- Publisher
You May Also Be Interested In
About "The Character of Christian Scripture"
The early church received the Scriptures of Israel as Christian Scriptures and did not change them. The older testament was received as a witness to God, and when a newer testament emerged, the older was not dismissed, harmonized, or edited. Rather, the church moved forward with a two-testament witness.

Christopher Seitz, an internationally renowned expert in canonical interpretation, illuminates the two-testament character of Scripture and its significance for the contemporary church. He interacts critically with current interest in the New Testament's use of the Old Testament and addresses an issue of perennial concern: how to hear both testaments as Christian witness.
- Publisher


Meet the Author
Christopher R Seitz
Christopher R. Seitz (Ph.D., Yale University) is professor of biblical interpretation at Wycliffe College, University of Toronto, in Toronto, Ontario. He previously taught at the University of St. Andrews and Yale University. He is the author or editor of twelve books including Figured Out: Typology, Providence and Christian Scripture; Nicene Christianity The Future for a New Ecumenism; Goodly Fellowship of the Prophets, The: The Achievement of Association in Canon Formation; Isaiah 1-39 (Interpretation Bible Commentaries) and most recently Colossians (Brazos Theological Commentary on the Bible).
Table Of Contents
Introduction: Starting Points
1. The Canonical Approach And Theological Interpretation
2. Biblical Theology And Identification With Christian Scripture: "we Are Not Prophets Or Apostles"
3. An Illustration Of The Challenge: The Letter To The Hebrews, Biblical Theology, And Identification
4. Theological Use Of The Old Testament: Recent New Testament Scholarship And The Psalms As Christian Scripture
5. Old And New In Canonical Interpretation
6. "be Ye Sure That The Lord He Is God"--crisis In Interpretation And The Two-testament Voice Of Christian Scripture
7. The Rule Of Faith, Hermeneutics, And The Character Of Christian Scripture
epilogue
index