The Chase (#01 in Crime Scene Houston Series)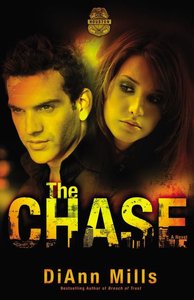 To the FBI it's a cold case. To Kariss Walker it's a hot idea that could either reshape or ruin her writing career. And it's a burning mission to revisit an event she can never forget. Five years ago, an unidentified little girl was found starved to death in the woods behind a Houston apartment complex. A TV news anchor at the time, Kariss reported on the terrifying case. Today, as a New York Times bestselling author, Kariss intends to turn the unsolved mystery into a suspense novel. Enlisting the help of FBI Special Agent Tigo Harris, Kariss succeeds in getting the case reopened. But the search for the dead girl's missing mother yields a discovery that plunges the partners into a witch's brew of danger. The old crime lives on in more ways than either of them could ever imagine. Will Kariss's pursuit of her dream as a writer carry a deadly price tag? Drawing from a real-life cold case, bestselling novelist DiAnn Mills presents a taut collage of suspense, faith, and romance in The Chase.

- Publisher
Also Available In
You May Also Be Interested In
About "The Chase (#01 in Crime Scene Houston Series)"
To the FBI it's a cold case. To Kariss Walker it's a hot idea that could either reshape or ruin her writing career. And it's a burning mission to revisit an event she can never forget. Five years ago, an unidentified little girl was found starved to death in the woods behind a Houston apartment complex. A TV news anchor at the time, Kariss reported on the terrifying case. Today, as a New York Times bestselling author, Kariss intends to turn the unsolved mystery into a suspense novel. Enlisting the help of FBI Special Agent Tigo Harris, Kariss succeeds in getting the case reopened. But the search for the dead girl's missing mother yields a discovery that plunges the partners into a witch's brew of danger. The old crime lives on in more ways than either of them could ever imagine. Will Kariss's pursuit of her dream as a writer carry a deadly price tag? Drawing from a real-life cold case, bestselling novelist DiAnn Mills presents a taut collage of suspense, faith, and romance in The Chase.
- Publisher


Meet the Author
Diann Mills
Award-winning author, DiAnn Mills, has over forty-nine books in print and has sold more than a million and a half copies. She is a finalist for the 2008 Christy Award for her novel, Lightning and Lace. Six of her anthologies have appeared on the CBA Best Seller List. Five of her books have won placements through ACFW's Book of the Year Awards 2003-2007. She is the recipient of the Inspirational Reader's Choice Award for 2005 and 2007. DiAnn and her husband have four adult sons and lives in Houston, Texas.
Media
Other Titles In The "Crime Scene Houston Series" Series