The Chase: Trusting God With Your Happily Ever After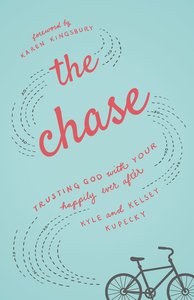 Kyle and Kelsey Kupecky couldn't have dreamed a better love story for themselves had it been scripted by a bestselling novelist like Kelsey's mom, Karen Kingsbury. In fact, if you asked them, Kyle and Kelsey would name God as the author of their story. And they're glad they trusted him to write it for them.

Unfortunately, too many girls hoping for their own happily-ever-after have taken matters into their own hands, chasing after boys when they should be chasing after God. And that inevitably leads to heartache, low self-esteem, and poor choices as girls give in to pressure from media and peers to look and act a certain way to attract guys.

Kyle and Kelsey want girls to know that it's never too late to trust God with their love lives, that wherever they are, there's always hope for the future. Through their own story and the stories of others who long for love, they show girls how to put God first, how to value and protect their purity, how to deal with loneliness and bullying, and how to see themselves as God does--a one-in-a-million girl who deserves no less than God's best.

- Publisher
You May Also Be Interested In
About "The Chase: Trusting God With Your Happily Ever After"
Kyle and Kelsey Kupecky couldn't have dreamed a better love story for themselves had it been scripted by a bestselling novelist like Kelsey's mom, Karen Kingsbury. In fact, if you asked them, Kyle and Kelsey would name God as the author of their story. And they're glad they trusted him to write it for them.

Unfortunately, too many girls hoping for their own happily-ever-after have taken matters into their own hands, chasing after boys when they should be chasing after God. And that inevitably leads to heartache, low self-esteem, and poor choices as girls give in to pressure from media and peers to look and act a certain way to attract guys.

Kyle and Kelsey want girls to know that it's never too late to trust God with their love lives, that wherever they are, there's always hope for the future. Through their own story and the stories of others who long for love, they show girls how to put God first, how to value and protect their purity, how to deal with loneliness and bullying, and how to see themselves as God does--a one-in-a-million girl who deserves no less than God's best.
- Publisher


Customer Reviews For "The Chase: Trusting God With Your Happily Ever After"
Write Your Own Review
Worth the chase
By Liz N,

Apr 27 2017
This book was an amazing read - recommended for all those who are waiting on God for the right one. I had my hopes up when I started because Kelsey is also my favorite author's daughter, and I was not disappointed at all. SO many gems. Also, it was wonderful to hear how God brought Kyle and Kelsey together and I look forward to more from them!
---
Fantastic Read
By Kimberley,

Aug 27 2015
I was so excited when I heard that Kyle and Kelsey were writing this book. I enjoy reading books about relationships and hearing about other people's stories. Kyle and Kelsey tell their story, both as a couple and as individuals, throughout this book. They use these stories to share what they have learnt about relationships. It was great reading about these lessons they have learnt with real life stories incorporated. It was also great to have Biblical truths all through these lessons, reminding me what God has to say about relationships and the best way for me to honour Him in this. As I read this book, I kept finding so many truths that even I needed to hear in my 20s. I encourage girls aged 13 and above to read this book. I also think that it would also be a great book for parents of teenage girls to read as well.

{{review.title}}
By {{review.author.name}},

{{review.reviewCreatedDate | date:'MMM dd yyyy'}}

{{reviewdescription}}
{{review.text}}
---