The Christ Files: How Historians Know What They Know About Jesus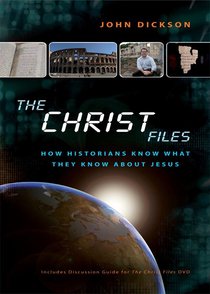 Uniquely among the world's religions, the central claims of Christianity concern not just timeless spiritual truths, but tangible historical events. At the heart of the of the Christian faith are things that are meant to have happened in Palestine between 5 BC and AD 30. It's as if Christianity happily places its head on the chopping block of public scrutiny and invites anyone who wants to come and take a swing. Some of Christianity's claims are so spectacular that they provoke a firestorm of questions, scrutiny, debate, and misinformation whenever they are discussed. The popularity of The Da Vinci Code and the frequent airing of TV documentaries delving into the darker uncertainties of Christianity show that such skepticism flourishes in the Western world today. In The Christ Files you will learn how historians know what they know about Jesus. Historian John Dickson embraces the need to examine Christianity's claims in the light of history, opening readers to a wealth of ancient sources and explaining how mainstream scholars---whether or not they claim Christian faith personally---reach their conclusions. Christianity arrived on the historical scene at a time of great literary activity. While many texts penned by ancient philosophers, historians, poets, and playwrights can reliably inform us about Jesus himself and about the culture in which he lived, others are not so credible. Dickson skillfully highlights both types of sources along with the historical methods used to study Christianity's claims. He also shows how historians asses the reliability of available data, and provides an honest but informed perspective on where historical issues are clear-cut and where personal faith comes into play. The Christ Files is a must-read for those looking to expand their understanding of early Christianity and the life of Jesus.

- Publisher
You May Also Be Interested In
About "The Christ Files: How Historians Know What They Know About Jesus"
Uniquely among the world's religions, the central claims of Christianity concern not just timeless spiritual truths, but tangible historical events. At the heart of the of the Christian faith are things that are meant to have happened in Palestine between 5 BC and AD 30. It's as if Christianity happily places its head on the chopping block of public scrutiny and invites anyone who wants to come and take a swing. Some of Christianity's claims are so spectacular that they provoke a firestorm of questions, scrutiny, debate, and misinformation whenever they are discussed. The popularity of The Da Vinci Code and the frequent airing of TV documentaries delving into the darker uncertainties of Christianity show that such skepticism flourishes in the Western world today. In The Christ Files you will learn how historians know what they know about Jesus. Historian John Dickson embraces the need to examine Christianity's claims in the light of history, opening readers to a wealth of ancient sources and explaining how mainstream scholars---whether or not they claim Christian faith personally---reach their conclusions. Christianity arrived on the historical scene at a time of great literary activity. While many texts penned by ancient philosophers, historians, poets, and playwrights can reliably inform us about Jesus himself and about the culture in which he lived, others are not so credible. Dickson skillfully highlights both types of sources along with the historical methods used to study Christianity's claims. He also shows how historians asses the reliability of available data, and provides an honest but informed perspective on where historical issues are clear-cut and where personal faith comes into play. The Christ Files is a must-read for those looking to expand their understanding of early Christianity and the life of Jesus.
- Publisher


Meet the Author
John Dickson
John Dickson (Ph.D., Macquarie University, Sydney) is one of Australia's best selling Christian authors. Much of his remarkable output focuses on the reliability of the New Testament and the relevance of the gospel to contemporary life. Recently, his documentary The Christ Files featured on Chanel 7.

His books range from academic studies to popular apologetics and youth issues and include Mission-Commitment in Ancient Judaism and in the Pauline Communities (JCB Mohr; WUNT 2/159); Hanging in There; A Sneaking Suspicion; Jesus: A Hell of a Life; Simply Christianity: Beyond Religion; Vital Signs and The Spectator's Guide to Jesus
This gifted communicator started his career as a singer/songwriter with rock band, In the Silence and hosted the national music TV show, Swordfish, for 2 years. Since then, he has gone on to gain an honours degree in Theology and a doctorate in ancient history. He holds the position of Honorary Associate in the Department of Ancient History, Macquarie University, Sydney. An ordained Anglican minister, John has spent the best part of a decade working as a local church minister.
Most recently he has produced Humilitas:A Lost Key to Life, Love, and Leadership (Zondervan, 2011); Life of JesusWho He Is and Why He Matters (Zondervan, 2010); The Best Kept Secret of Christian Mission: Promoting the Gospel with More Than Our Lips (Zondervan, 2010) ; Investigating Jesus: An Historian's Quest; Jesus: A Short Life; The Christ Files; and 666 and all That with Greg Clarke
Koorong - Editorial Review.
Customer Reviews For "The Christ Files: How Historians Know What They Know About Jesus"
Write Your Own Review
Great Introduction into the Historical Evidence of Jesus
By Ash,

Mar 27 2018
This short but detailed, easy to read book is a great introduction into the historical evidence of Jesus. I recommend the book not for academics or those who already know a lot about this topic, but for beginners who want to learn about the historical evidence of Jesus. I am new to this subject, and have found this book extremely helpful.
---
I Should Have Bought the Pack!
By Tony H.,

Feb 06 2015
Why didn't I buy the pack?!  I bought the book only and now regret not buying the pack.  :-(

Dr John Dickson (Macquarie University, Sydney) describes how Professors validate the authenticity of historical texts.  It's amazing and fascinating how he can convey to the everyday layperson how accurate and authentic the bible is!  Like his other books also offering up historical evidence for the authenticity of the bible, this too is a must read!

There is one little hitch in that some of the content overlaps with two of his other books, "Jesus, a Short Life" and "Investigating Jesus".  I found that to be a good thing though as we can all benefit with a refresher from time-to-time on the historical authenticity of the bible.
{{review.title}}
By {{review.author.name}},

{{review.reviewCreatedDate | date:'MMM dd yyyy'}}

{{reviewdescription}}
{{review.text}}
---