The Christian Manager - a Practical Guide For Bible Based Management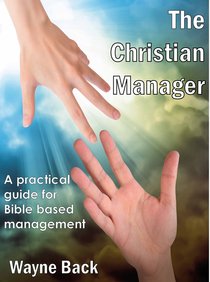 This book will help you to apply biblical principles to your management role. It contains sound management theory, Scriptural foundations and highly practical in the workplace. Managers have the major influence in the productivity and satisfaction of those who work in their teams. We can influence them to fulfil their potential at work as well as in Kingdom values.The Chapter titles are:Chapter one: Building the presence of God at your workplaceChapter two: Building your influence: The basis for leadership and effective evangelismChapter three: Management, leadership and other team rolesChapter four: Culture and systems: The spirit and the letter?Chapter five: Team climate and organizational cultureChapter six: Providing clarityChapter seven: Giving responsibilityChapter eight: Setting appropriate standardsChapter nine: Increasing flexibilityChapter ten: Giving rewardsChapter eleven: Conflict resolutionChapter twelve: Fostering collaborationChapter thirteen: Developing peopleChapter fourteen: Developing teams

- Publisher
You May Also Be Interested In
About "The Christian Manager - a Practical Guide For Bible Based Management"
This book will help you to apply biblical principles to your management role. It contains sound management theory, Scriptural foundations and highly practical in the workplace. Managers have the major influence in the productivity and satisfaction of those who work in their teams. We can influence them to fulfil their potential at work as well as in Kingdom values.The Chapter titles are:Chapter one: Building the presence of God at your workplaceChapter two: Building your influence: The basis for leadership and effective evangelismChapter three: Management, leadership and other team rolesChapter four: Culture and systems: The spirit and the letter?Chapter five: Team climate and organizational cultureChapter six: Providing clarityChapter seven: Giving responsibilityChapter eight: Setting appropriate standardsChapter nine: Increasing flexibilityChapter ten: Giving rewardsChapter eleven: Conflict resolutionChapter twelve: Fostering collaborationChapter thirteen: Developing peopleChapter fourteen: Developing teams
- Publisher


Meet the Author
Wayne Back
Wayne Back is the founder and Managing Director of Management Training Australia and Organisational Development International. He was converted as a result of a powerful experience of the Holy Spirit whilst doing research in atomic physics at the University of Western Australia. He has been a minister in Christian City Churches in Canberra and Melbourne, Australia for 20 years, serving as a Senior Minister for 13 years and Executive Pastor for 5 years. During this time he started several churches and ministry training colleges as well as managed the staff of one of Melbourne's largest churches. He holds an honours degree in Physics, a Diploma of Ministry and a Masters in Management. Wayne lives in Melbourne, Australia with his wife of 27 years. He has three daughters and a grand-daughter.