The Church God Blesses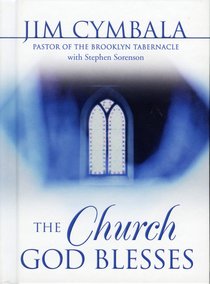 God Is Searching for Churches to Bless---not a church that has it all together or one that never makes mistakes or one that rarely encounters problems, but a church that daily experiences God's empowering presence
You May Also Be Interested In
About "The Church God Blesses"
God Is Searching for Churches to Bless---not a church that has it all together or one that never makes mistakes or one that rarely encounters problems, but a church that daily experiences God's empowering presence
- Koorong

God Is Looking For A Church To Bless God wants to transform his church into a people of power, joy, and peace Jim Cymbala reminds us that Christianity is only as strong as the local church and that God wants to bless our churches in ways we can?t possibly imagine. It doesn?t matter whether a church is alive and growing or barely surviving on life support. God has a plan for it. It doesn?t matter whether a church is facing financial challenges, internal divisions, or strife among its leaders. God has a plan for it. God is able to deal with any problem a church will ever face--as long as his people earnestly seek him. As the pastor of The Brooklyn Tabernacle, Cymbala knows that God's blessing and grace is available to us today just as much as it was in the early church, when thousands of people became believers despite the fact that the church lacked everything we consider vital: church buildings, seminaries, printed materials, sound systems, choirs, and money. None of these things mattered. What mattered was that God's hand was on the church, working through his people to build the kingdom. Then, as now, God chose the church to manifest his presence to the world. In this companion book to The Life God Blesses, Cymbala describes the kind of church God wants to bless and use. Based on the Word of God and personal experience, The Church God Blesses describes the key elements found in a vitally alive church and offers church leaders and individual Christians a fresh and invigorating look at what God intends the church to be. The church God blesses is not necessarily the largest, newest, or loudest church in town. Instead, it's a place where believers: * Receive solid spiritual nourishment *Can trust in God's protection *Engage in vital praise and worship *Become effective in ministry *Learn that confession of sin is the channel to God's power
- Publisher


Meet the Authors
Jim Cymbala
Jim Cymbala has been the pastor of The Brooklyn Tabernacle for more than twenty-five years.
He is also the author of the bestselling titles Fresh Wind, Fresh Fire; Fresh Faith; Fresh Power; Breakthrough Prayer; The Life God Blesses; The Church God Blesses; The Promise of God's Power and most recently When Gods Spirit Moves.
He lives in New York City with his wife, Carol, who directs the Grammy Award-winning Brooklyn Tabernacle Choir.
Stephen Sorenson
Stephen and Amanda Sorenson are founders of Sorenson Communications and have co-written many small group curriculum guidebooks, including the entire Faith Lessons series.