The Coming Economic Armageddon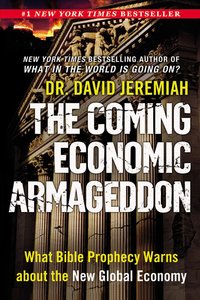 Never before have we read such jarring headlines, distressing news analyses, or dire predictions concerning the world's financial future. The American housing market -- or, more sentimentally, the American dream -- began to collapse in 2006, taking with it large chunks of the global financial system. Millions of jobs worldwide have vanished forever. Did Bible prophecy predict this catastrophe? Are there biblical clues to how soon, if ever, a viable, long-term recovery can be sustained? Is the financial collapse just one of several signs that we are living in the final days of Earth's history In THE COMING ECONOMIC ARMAGEDDON, David Jeremiah says we can know the meaning behind what we see in the daily news -- and understand and prepare for living in the New Global Economy.

- Publisher
You May Also Be Interested In
About "The Coming Economic Armageddon"
Never before have we read such jarring headlines, distressing news analyses, or dire predictions concerning the world's financial future. The American housing market -- or, more sentimentally, the American dream -- began to collapse in 2006, taking with it large chunks of the global financial system. Millions of jobs worldwide have vanished forever. Did Bible prophecy predict this catastrophe? Are there biblical clues to how soon, if ever, a viable, long-term recovery can be sustained? Is the financial collapse just one of several signs that we are living in the final days of Earth's history In THE COMING ECONOMIC ARMAGEDDON, David Jeremiah says we can know the meaning behind what we see in the daily news -- and understand and prepare for living in the New Global Economy.
- Publisher


Meet the Author
David Jeremiah
David Jeremiah is the founder of Turning Point, an international ministry committed to providing Christians with sound Bible teaching through radio and television, the Internet, live events, and resource materials and books. He is the author of more than fifty books including Is This the End, The Spiritual Warfare Answer Book, The David Jeremiah Morning and Evening Devotional, and Airship Genesis Kids Study Bible.

David serves as the senior pastor of Shadow Mountain Community Church in San Diego, California, where he resides with his wife, Donna. They have four grown children and twelve grandchildren.