The Coming Prophetic Revolution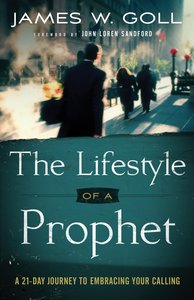 Accessible Guide from Bestselling Author
for Embracing the Prophetic Calling

Internationally respected prophet and bestselling author James W. Goll offers a readable, practical approach to the prophetic gifting. Centered around a unique, hands-on 21-day guide, he helps believers develop the intimacy with God essential to hearing his voice clearly and correctly--and then proclaiming his words faithfully.

Through illustrations from his own life and those of John, Daniel, and Ezekiel, Goll exposes common misconceptions, the successes and failures of gifted people throughout church history, and wisdom from the trenches of the prophetic. Devotional prayers and reflection questions follow each chapter. A must-have resource for those in prophetic ministry and all who work with them.

- Publisher
You May Also Be Interested In
About "The Coming Prophetic Revolution"
Accessible Guide from Bestselling Author
for Embracing the Prophetic Calling

Internationally respected prophet and bestselling author James W. Goll offers a readable, practical approach to the prophetic gifting. Centered around a unique, hands-on 21-day guide, he helps believers develop the intimacy with God essential to hearing his voice clearly and correctly--and then proclaiming his words faithfully.

Through illustrations from his own life and those of John, Daniel, and Ezekiel, Goll exposes common misconceptions, the successes and failures of gifted people throughout church history, and wisdom from the trenches of the prophetic. Devotional prayers and reflection questions follow each chapter. A must-have resource for those in prophetic ministry and all who work with them.
- Publisher


Meet the Author
James W Goll
James W. Goll is the cofounder of Encounter Network, a ministry to the nations. He has written fifteen extensive Bible study guides and is the author or co-author of nearly a dozen books, including Kneeling on the Promises,The Coming Prophetic Revolution and Praying for Israel's Destiny. Goll is a contributing editor to Kairos magazine and speaks and ministers around the world. He and his wife, Michal Ann, live in Franklin, Tennessee.