The Complete Cancer Cleanse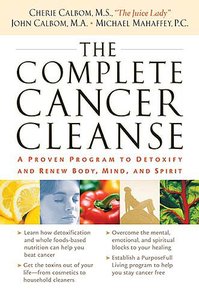 A Proven Program to Detoxify and Renew Body, Mind, and Spirit

Cherie Calbom, "The Juice Lady," therapist John Calbom, and Michael Mahaffey, a twenty-year cancer survivor, present a unique, multi-disciplinary approach to fighting cancer.

This book guides readers through a process of detoxification and renewal so they can partner with their physician to overcome cancer. Nutritionist Cheri Calbom presents detoxification programs for all organs and systems of elimination. And she shows readers how to build their immune systems and restore nutritional vitality through healing foods. Next therapist John Calbom guides cancer patients in a process of removing the mental, emotional, and spiritual blocks to their healing. Finally, readers renew their spirits through 'PurposeFull' living, the journey Michael Mahaffey took as he experienced a new relationship with Jesus Christ, which led to his miraculous healing.


- Publisher A therapist, the "Juice Lady," and a cancer survivor presents a proven program to detoxify and renew body, mind, and spirit.

- Publisher Cancer is still the great mystery disease. When first diagnosed, you probably searched for answers to a myriad of questions, like "What caused my cancer?" and "What are my treatment options?" These answers are essential: the better informed you are, the greater your odds of beating cancer. Self-care is, in fact, one of the most important aspects in recovery. The Complete Cancer Cleanse guides you through a comprehensive, unique process to help you partner with your physician to overcome cancer. The key aspects of this multidisciplinary approach are detoxification and renewal of the body, mind, and spirit. Contrary to popular belief, the genetically inherited component of human cancer is relatively small. Much more important are diet, nutritional deficiencies, and toxins that have harmed your body. Nutritionist Cherie Calbom presents a detoxification program to rid you of these toxins, which includes both 30-day programs and easy cleanses if you are working fulltime. Then she identifies the foods that are harmful to your healing and the "super hero" foods and nutrients that will rebuild your immune system and restore your health and vitality.

- Publisher
You May Also Be Interested In
About "The Complete Cancer Cleanse"
A Proven Program to Detoxify and Renew Body, Mind, and Spirit

Cherie Calbom, "The Juice Lady," therapist John Calbom, and Michael Mahaffey, a twenty-year cancer survivor, present a unique, multi-disciplinary approach to fighting cancer.

This book guides readers through a process of detoxification and renewal so they can partner with their physician to overcome cancer. Nutritionist Cheri Calbom presents detoxification programs for all organs and systems of elimination. And she shows readers how to build their immune systems and restore nutritional vitality through healing foods. Next therapist John Calbom guides cancer patients in a process of removing the mental, emotional, and spiritual blocks to their healing. Finally, readers renew their spirits through 'PurposeFull' living, the journey Michael Mahaffey took as he experienced a new relationship with Jesus Christ, which led to his miraculous healing.

- Publisher

A therapist, the "Juice Lady," and a cancer survivor presents a proven program to detoxify and renew body, mind, and spirit.
- Publisher

Cancer is still the great mystery disease. When first diagnosed, you probably searched for answers to a myriad of questions, like "What caused my cancer?" and "What are my treatment options?" These answers are essential: the better informed you are, the greater your odds of beating cancer. Self-care is, in fact, one of the most important aspects in recovery. The Complete Cancer Cleanse guides you through a comprehensive, unique process to help you partner with your physician to overcome cancer. The key aspects of this multidisciplinary approach are detoxification and renewal of the body, mind, and spirit. Contrary to popular belief, the genetically inherited component of human cancer is relatively small. Much more important are diet, nutritional deficiencies, and toxins that have harmed your body. Nutritionist Cherie Calbom presents a detoxification program to rid you of these toxins, which includes both 30-day programs and easy cleanses if you are working fulltime. Then she identifies the foods that are harmful to your healing and the "super hero" foods and nutrients that will rebuild your immune system and restore your health and vitality.
- Publisher


Meet the Authors
Cherie Calbom
Cherie Calbom, MS, has earned a master's degree in nutrition from Bastyr University, where she now serves on the Board of Regents. She practiced as a clinical nutritionist at St. Luke Medical Center, Bellevue, Washington. Known as "the Juice Lady" for her work with juicing and health, her juice therapy and cleansing programs have been popular for more than a decade. She is also known as George Foreman's nutritionist and the other spokesperson for the George Foreman grills.
John Calbom
Calbom is director of Trinity Retreat House, president of Trinity Wellness Institute, and a certified HeartMath provider.
Michael Mahaffey
Mahaffey is the director and cofounder of Cedar Springs Renewal Center. A