The Complete Worship Service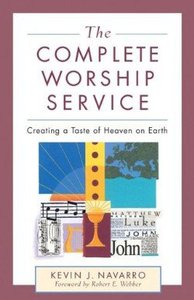 Practical guidance for church leaders on making all aspects of a worship service work together to welcome all and communicate the gospel.

- Publisher Just as diners visit a fine restaurant anticipating the ambiance and meal to come, so first-time guests and members alike come to church to experience the presence of God. In this follow-up book to The Complete Worship Leader, veteran worship leader and pastor Kevin Navarro helps church leaders create a complete worship service by implementing a four-part pattern of worship: longing for, preparing for, experiencing, and talking about a taste of heaven. Approaching the worship service as an act of hospitality, Navarro emphasizes clearing away obstacles and communicating the gospel. He shares practical ideas for churches of all kinds and sizes-everything from assisting guests to using the arts to centering the preaching on Christ. Pastors, worship leaders, and church leaders of any denomination and worship style will benefit from this practical guide.

- Publisher "When I closed this book, I felt a tremendous mixture of hope, excitement, affirmation, and renewed devotion to the work of crafting weekly worship services. Kevin Navarro ennobles the entire effort of preparing the Sunday "dress rehearsals" for our ultimate worship experience in heaven. I'm grateful for the hard-won lessons, practical advice, and inspiring vision offered in these pages. Let our weekly celebrations resound with greater joy, profound hope, and a taste of eternity whenever we gather together!"--Nancy Beach, teaching pastor and creative director, Willow Creek Community Church"Are worship services at your church flat? Predictable? Not really connecting people with God? Then get ready to fiesta in the Complete Worship Service! In this encouraging and challenging book, Kevin Navarro invites us to move past the "worship = music" myth and into a fuller approach to worship: a creative, corporate feast of praise, prayer, the Word of God, and the Lord's Supper. And he shows us how to practice hospitality that encourages members and guests to engage with God in worship. Weekly worship can be much more than a dreary duty; as Navarro ably demonstrates, the "Complete Worship Service" can be the appetizer course at your church for the heavenly banquet to come. Navarro writes with the heart of a worshiper, a pastor, and a jazz musician. The Complete Worship Service is filled with biblical insight and practical application. Pastors and lay leaders alike will benefit from Navarro's field-tested recommendations for practicing welcoming hospitality and designing meaningful worship services. I can't think of a better book to stimulate and inform conversations in your church about worship that engages the whole people and the whole person."--Dr. Robb Redman, author, The Great Worship Awakening"Here's a book on worship to be read by every church musician, pastor, leader and worshipper."--Leith Anderson, author, Jesus: An Intimate Portrait of the Man, His Land, and His People"Here is a book that anyone dissatisfied with the quality, Christ- and Scripture-centered nature, or impact of their worship services must read. While some may feel that Navarro's goals of excellence at times lie beyond their reach, no one can doubt his heart for seeing people brought to Christ and brought up in him through worship. His track record, moreover, first as a worship pastor and then as a senior pastor, at a church where I once served as an interim, speaks for itself-steady growth, qualitatively and quantitatively, in a congregation that dearly loves this infectiously upbeat leader who also models integrity and humility in everything he does."--Craig L. Blomberg, Distinguished Professor of New Testament, Denver Seminary"The desire to worship is rooted in our hunger for heaven. Our coming together for worship is a foretaste of heaven. In his book that is both spiritual and intensely practical at the same time, Kevin Navarro explores this vital connection between our fragmented experience in the here and now and the hope we all share for the time that certainly will come when heaven will come for us."--Michael Card, award-winning musician; author, A Sacred Sorrow"When it comes to worship, nothing matters if the only One worthy of worship is just a footnote beneath worship glitz. Kevin Navarro prods our hearts back to Jesus and to worship services that give life, not just lessons; a foretaste of heaven, not just so many factoids to get through another week. The Complete Worship Service is a timely, passionate antidote to the worship humanism saturating contemporary services."--Sally Morgenthaler, author, Worship Evangelism; founder, Sacramentis.com

- Publisher
You May Also Be Interested In
About "The Complete Worship Service"
Practical guidance for church leaders on making all aspects of a worship service work together to welcome all and communicate the gospel.
- Publisher

Just as diners visit a fine restaurant anticipating the ambiance and meal to come, so first-time guests and members alike come to church to experience the presence of God. In this follow-up book to The Complete Worship Leader, veteran worship leader and pastor Kevin Navarro helps church leaders create a complete worship service by implementing a four-part pattern of worship: longing for, preparing for, experiencing, and talking about a taste of heaven. Approaching the worship service as an act of hospitality, Navarro emphasizes clearing away obstacles and communicating the gospel. He shares practical ideas for churches of all kinds and sizes-everything from assisting guests to using the arts to centering the preaching on Christ. Pastors, worship leaders, and church leaders of any denomination and worship style will benefit from this practical guide.
- Publisher

"When I closed this book, I felt a tremendous mixture of hope, excitement, affirmation, and renewed devotion to the work of crafting weekly worship services. Kevin Navarro ennobles the entire effort of preparing the Sunday "dress rehearsals" for our ultimate worship experience in heaven. I'm grateful for the hard-won lessons, practical advice, and inspiring vision offered in these pages. Let our weekly celebrations resound with greater joy, profound hope, and a taste of eternity whenever we gather together!"--Nancy Beach, teaching pastor and creative director, Willow Creek Community Church"Are worship services at your church flat? Predictable? Not really connecting people with God? Then get ready to fiesta in the Complete Worship Service! In this encouraging and challenging book, Kevin Navarro invites us to move past the "worship = music" myth and into a fuller approach to worship: a creative, corporate feast of praise, prayer, the Word of God, and the Lord's Supper. And he shows us how to practice hospitality that encourages members and guests to engage with God in worship. Weekly worship can be much more than a dreary duty; as Navarro ably demonstrates, the "Complete Worship Service" can be the appetizer course at your church for the heavenly banquet to come. Navarro writes with the heart of a worshiper, a pastor, and a jazz musician. The Complete Worship Service is filled with biblical insight and practical application. Pastors and lay leaders alike will benefit from Navarro's field-tested recommendations for practicing welcoming hospitality and designing meaningful worship services. I can't think of a better book to stimulate and inform conversations in your church about worship that engages the whole people and the whole person."--Dr. Robb Redman, author, The Great Worship Awakening"Here's a book on worship to be read by every church musician, pastor, leader and worshipper."--Leith Anderson, author, Jesus: An Intimate Portrait of the Man, His Land, and His People"Here is a book that anyone dissatisfied with the quality, Christ- and Scripture-centered nature, or impact of their worship services must read. While some may feel that Navarro's goals of excellence at times lie beyond their reach, no one can doubt his heart for seeing people brought to Christ and brought up in him through worship. His track record, moreover, first as a worship pastor and then as a senior pastor, at a church where I once served as an interim, speaks for itself-steady growth, qualitatively and quantitatively, in a congregation that dearly loves this infectiously upbeat leader who also models integrity and humility in everything he does."--Craig L. Blomberg, Distinguished Professor of New Testament, Denver Seminary"The desire to worship is rooted in our hunger for heaven. Our coming together for worship is a foretaste of heaven. In his book that is both spiritual and intensely practical at the same time, Kevin Navarro explores this vital connection between our fragmented experience in the here and now and the hope we all share for the time that certainly will come when heaven will come for us."--Michael Card, award-winning musician; author, A Sacred Sorrow"When it comes to worship, nothing matters if the only One worthy of worship is just a footnote beneath worship glitz. Kevin Navarro prods our hearts back to Jesus and to worship services that give life, not just lessons; a foretaste of heaven, not just so many factoids to get through another week. The Complete Worship Service is a timely, passionate antidote to the worship humanism saturating contemporary services."--Sally Morgenthaler, author, Worship Evangelism; founder, Sacramentis.com
- Publisher


Meet the Author
Kevin Navarro
Kevin J. Navarro, former international director for the Continental Singers, has music undergraduate degrees, an M.Div. and a D.Min., and more than eighteen years of experience leading worship in church and parachurch ministries. He is currently a pastor and worship leader at Bethany Evangelical Free Church (EFCA) in Littleton, Colorado.