The Confessions of St Augustine (Modern English Version)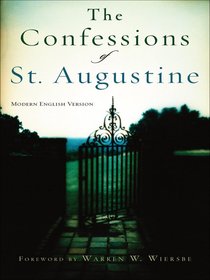 Confessions is one of the most moving diaries ever recorded of a man's journey to the fountain of God's grace. Writing as a sinner, not a saint, Augustine shares his innermost thoughts and conversion experiences, and wrestles with the spiritual questions that have stirred the hearts of the thoughtful since time began. Starting with his childhood in Numidia, through his youth and early adulthood in Carthage, Rome, and Milan, readers will see Augustine as a human being, a fellow traveler on the road to salvation. Though staggering around potholes and roadblocks, all will find strength in Augustine's message: when the road gets rough, look to God! Previously released in 1977, this book invites readers to join Augustine in his quest that led him to be one of the most influential Christian thinkers in the history of the church.

- Publisher
You May Also Be Interested In
About "The Confessions of St Augustine (Modern English Version)"
Confessions is one of the most moving diaries ever recorded of a man's journey to the fountain of God's grace. Writing as a sinner, not a saint, Augustine shares his innermost thoughts and conversion experiences, and wrestles with the spiritual questions that have stirred the hearts of the thoughtful since time began. Starting with his childhood in Numidia, through his youth and early adulthood in Carthage, Rome, and Milan, readers will see Augustine as a human being, a fellow traveler on the road to salvation. Though staggering around potholes and roadblocks, all will find strength in Augustine's message: when the road gets rough, look to God! Previously released in 1977, this book invites readers to join Augustine in his quest that led him to be one of the most influential Christian thinkers in the history of the church.
- Publisher


Meet the Author
Saint Augustine
Saint Augustine was born to a Catholic mother and a pagan father on November 13, 354, at Tagasta, near Algiers. He studied Latin literature and later taught rhetoric in Rome and Milan. He originally joined the Manicheans, a religious sect, but grew unhappy with some of their philosophies. He soon turned to Christianity and was baptized in 386. One of Augustine's major goals was a single, unified church. He was ordained a priest in 391 and appointed Bishop of Hippo, in Roman Africa, in 396, His writings and arguments with other sects include the Donatists and the Pelagians. On the Trinity, The City of God, and On Nature and Grace are some of his important writings. Confessions, which is considered his masterpiece, is an autobiographical work that recounts his restless youth and details the spiritual experiences that led him to Christianity. Many of Augustine's ideas, such as those concerning sin and predestination, became integral to the doctrines of the Church. Augustine died on August 28, 430AD.