The Conversations of Jesus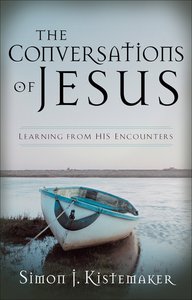 Through Scripture and spoken word, Jesus continues to attract millions of followers today. In many ways, those who seek Christ now differ little from those whose stories we learn in the Gospels: Peter, Nicodemus, Mary, the Samaritan leper, even Judas.

Professor Simon J. Kistemaker has spent his professional life studying the words and actions of those who spent time with Jesus. In The Conversations of Jesus he offers a glimpse into the lives of those who were touched by encounters with Jesus Christ. Readers will find much in common with these first-century people, including their feelings of inadequacy, confusion, and joy at meeting the Savior.

Ideal for laypersons and pastors, The Conversations of Jesus helps readers strengthen their walks with Christ as they learn about others who have walked this path before.

- Publisher
You May Also Be Interested In
About "The Conversations of Jesus"
Through Scripture and spoken word, Jesus continues to attract millions of followers today. In many ways, those who seek Christ now differ little from those whose stories we learn in the Gospels: Peter, Nicodemus, Mary, the Samaritan leper, even Judas.

Professor Simon J. Kistemaker has spent his professional life studying the words and actions of those who spent time with Jesus. In The Conversations of Jesus he offers a glimpse into the lives of those who were touched by encounters with Jesus Christ. Readers will find much in common with these first-century people, including their feelings of inadequacy, confusion, and joy at meeting the Savior.

Ideal for laypersons and pastors, The Conversations of Jesus helps readers strengthen their walks with Christ as they learn about others who have walked this path before.
- Publisher


Meet the Author
Simon Kistemaker
Simon J. Kistemaker is professor emeritus at Reformed Theological Seminary in Orlando and the author of numerous studies and commentaries, including The Parables and several volumes of the New Testament Commentary series.