The Counselor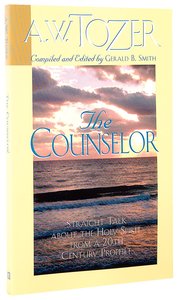 Subtitled "Straight Talk about the Holy Spirit from a 20th-Century Prophet", THE COUNSELLOR explains how to develop a relationship with the third Person of the Trinity. Tozer speaks to the current conflict and confusion about the Holy Spirit from a perspective that is balanced and biblical, yet devotional and practical.

Pastor of the Alliance Church in Chicago for 31 years, and editor of "Alliance Life" from 1950 until his death, A W Tozer was known as "a 20th-century prophet." In a legacy to the Christian world of more than 40 books, he calls the modern Christian church back to the practice of godliness and to the deep level of spiritual reality enjoyed by serious seekers after God from the days of the Apostles. "I have read and re-read Tozer's books and each time sense a hushed silence. It is the silence that has heard from God." - Ravi Zacharias.


- Publisher Explains how to develop a relationship with the Holy Spirit and speaks to the conflict and confusion about Him from a balanced, biblical and devotional perspective.

- Publisher
You May Also Be Interested In
About "The Counselor"
Subtitled "Straight Talk about the Holy Spirit from a 20th-Century Prophet", THE COUNSELLOR explains how to develop a relationship with the third Person of the Trinity. Tozer speaks to the current conflict and confusion about the Holy Spirit from a perspective that is balanced and biblical, yet devotional and practical.

Pastor of the Alliance Church in Chicago for 31 years, and editor of "Alliance Life" from 1950 until his death, A W Tozer was known as "a 20th-century prophet." In a legacy to the Christian world of more than 40 books, he calls the modern Christian church back to the practice of godliness and to the deep level of spiritual reality enjoyed by serious seekers after God from the days of the Apostles. "I have read and re-read Tozer's books and each time sense a hushed silence. It is the silence that has heard from God." - Ravi Zacharias.

- Publisher

Explains how to develop a relationship with the Holy Spirit and speaks to the conflict and confusion about Him from a balanced, biblical and devotional perspective.
- Publisher


Meet the Author
A W Tozer
A. W. Tozer died in 1963, but his life and spiritual legacy continue to draw many into a deeper knowledge of God. During his lifetime, Tozer pastored several Christian and Missionary Alliance churches. Missions and the deeper life in Christ were his primary focus. He also served as editor of the Alliance Life. Tozer authored more than 40 books, (at least two of which are considered classics: The Pursuit of God and Knowledge of the Holy), a tremendous accomplishment for a man who never received a formal theological education. The presence of God was his classroom, his notebooks and tools consisted of prayer, God's Word, and the writings of early Christians and theologians, the Puritans, and great men of faith. - Publisher.
Table Of Contents
1. Whenever Jesus Christ Is Glorified, The Holy Spirit Comes

2. The Holy Spirit Is Not Known Through The Intellect

3. The Presence And Ministry Of The Holy Spirit: All That Jesus Would Be

4. Pentecost: Perpetuation, Not Repetition

5. The Promised Filling Of The Holy Spirit: Instantly, Not Gradually

6. Do You Have All God Wants For You?

7. Spiritual Gifts. The Ability To Do

8. Cultivating The Fellowship Of The Holy Spirit

9. The Holy Spirit Makes The Difference!

10. The Heavenly Dove: Repelled By Corruption P. 157