The Creation Health Breakthrough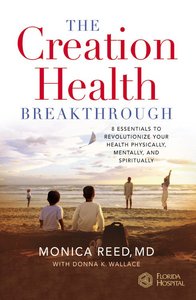 Dr. Monica Reed delivers the model for the 21st century living in this ground-breaking book on maximizing your health through lifestyle. Despite scores of new medical treatments and explosive technology gains, millions of Americans are suffering and needlessly dying from entirely preventable chronic diseases linked to lifestyle choices. Today, 61% of all deaths in America are tied to the top three lifestyle-related diseases: cardiovascular disease, strokes, and cancer. 40% of these deaths are entirely preventable by making positive choices. Dr. Reed prescribes eight fundamentally powerful and scientifically proven essentials to reverse the negative effects of lifestyle, prevent disease in at-risk people, and ultimately achieve total health and wellness: C hoice R est E nvironment A ctivity T rust I nterpersonal R elations O utlook N utrition Avoiding fad diet advice or miracle drugs, Dr. Reed treats Americans right where they hurta"by combining the best of science and the best of lifestyle. In addition to proven principles for achieving whole person health, CREATION HEALTH BREAK-THROUGH features Dr. Reed's unique 3-Day Total Body Rejuvenation Therapy and her 4-Phase Life Transformation Plan.

- Publisher Blending science and lifestyle recommendations, Dr. Reed prescribes eight essentials that will help reverse harmful health habits and prevent disease. Discover how intentional choices, rest, environment, activity, trust, relationships, outlook, and nutrition can put a person on the road to wellness. Features a three-day total body rejuvenation therapy and four-phase life transformation plan.

- Publisher
You May Also Be Interested In
About "The Creation Health Breakthrough"
Dr. Monica Reed delivers the model for the 21st century living in this ground-breaking book on maximizing your health through lifestyle. Despite scores of new medical treatments and explosive technology gains, millions of Americans are suffering and needlessly dying from entirely preventable chronic diseases linked to lifestyle choices. Today, 61% of all deaths in America are tied to the top three lifestyle-related diseases: cardiovascular disease, strokes, and cancer. 40% of these deaths are entirely preventable by making positive choices. Dr. Reed prescribes eight fundamentally powerful and scientifically proven essentials to reverse the negative effects of lifestyle, prevent disease in at-risk people, and ultimately achieve total health and wellness: C hoice R est E nvironment A ctivity T rust I nterpersonal R elations O utlook N utrition Avoiding fad diet advice or miracle drugs, Dr. Reed treats Americans right where they hurta"by combining the best of science and the best of lifestyle. In addition to proven principles for achieving whole person health, CREATION HEALTH BREAK-THROUGH features Dr. Reed's unique 3-Day Total Body Rejuvenation Therapy and her 4-Phase Life Transformation Plan.
- Publisher

Blending science and lifestyle recommendations, Dr. Reed prescribes eight essentials that will help reverse harmful health habits and prevent disease. Discover how intentional choices, rest, environment, activity, trust, relationships, outlook, and nutrition can put a person on the road to wellness. Features a three-day total body rejuvenation therapy and four-phase life transformation plan.
- Publisher


Meet the Authors
Monica Reed
Susan Besze Wallace spent twelve years as a reporter and editor for six newspapers, including the Denver Post, the Orange County Register, the Houston Post, and the Fort Worth Star-Telegram. She has also written for MomSense magazine. Wallace lives in Haymarket, Virginia. Dr. Monica Reed is the former Senior Medical Officer of the largest hospital in America, Florida Hospital, and the current CEO of Florida Hospital's state-of-the-art medical facility--Celebration Health. Dr. Reed has made a lifetime commitment to whole person health and has dedicated her medical career to promoting health, healing, and wellness. Reed lives in Orlando, Florida.
Donna Wallace
Robert S. Paul, co-president and CEO of the National Institute of Marriage, is a seasoned therapist, author, and collaborative author of the bestselling The DNA of Relationships and The DNA of Relationships for Couples. Bob speaks at marriage and professional conferences nationwide, is a frequent guest on television and radio, including Moody Midday Connection, Aspiring Women, and At Home Live. He and his wife, Jenni, have four children and live in Branson, Missouri. Donna K. Wallace, MTS, president and founder of Mere Images, Inc., has coauthored and collaborated on fifteen inspirational and