The Crucified Life (New Tozer Collection Series)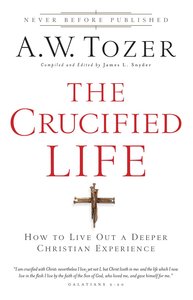 What Does it Mean to Be "Crucified With Christ?"

During his lifetime, renowned teacher A.W. Tozer was often invited to speak at seminaries, churches, and Bible conferences on the topic of the cross and its meaning for the Christian life. Now, in this never-before-published distillation of his best teaching on the subject, you will gain a fresh understanding of the cross's centrality to your walk of faith in Christ.

The apostle Paul declared in his letter to the Galatians that he had been "crucified with Christ." But what does this mean? Is this a claim every believer can and should make? The Crucified Life is a comprehensive examination of these questions, answered with the deep, biblical thinking for which Tozer was revered. "God is ingenious in developing crosses for His followers," Tozer was fond of saying. At the heart of this book, you will find a call to follow Christ to the cross and be raised to new life--a call to live the crucified life.

- Publisher
You May Also Be Interested In
About "The Crucified Life (New Tozer Collection Series)"
What Does it Mean to Be "Crucified With Christ?"

During his lifetime, renowned teacher A.W. Tozer was often invited to speak at seminaries, churches, and Bible conferences on the topic of the cross and its meaning for the Christian life. Now, in this never-before-published distillation of his best teaching on the subject, you will gain a fresh understanding of the cross's centrality to your walk of faith in Christ.

The apostle Paul declared in his letter to the Galatians that he had been "crucified with Christ." But what does this mean? Is this a claim every believer can and should make? The Crucified Life is a comprehensive examination of these questions, answered with the deep, biblical thinking for which Tozer was revered. "God is ingenious in developing crosses for His followers," Tozer was fond of saying. At the heart of this book, you will find a call to follow Christ to the cross and be raised to new life--a call to live the crucified life.
- Publisher


Meet the Author
A W Tozer
A. W. Tozer died in 1963, but his life and spiritual legacy continue to draw many into a deeper knowledge of God. During his lifetime, Tozer pastored several Christian and Missionary Alliance churches. Missions and the deeper life in Christ were his primary focus. He also served as editor of the Alliance Life. Tozer authored more than 40 books, (at least two of which are considered classics: The Pursuit of God and Knowledge of the Holy), a tremendous accomplishment for a man who never received a formal theological education. The presence of God was his classroom, his notebooks and tools consisted of prayer, God's Word, and the writings of early Christians and theologians, the Puritans, and great men of faith. - Publisher.
Other Titles In The "New Tozer Collection Series" Series View All