The Culture-Wise Family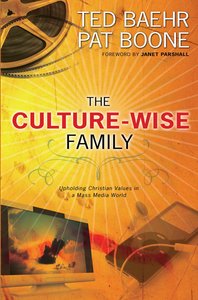 Sex. Graphic killings. Profanity. Adultery. Flip on the television, head for the movie theater, or open a newspaper and you can't get away from it. How do you raise a family in a world supersaturated with media extolling toxic values that are not your own? Media critic Dr. Ted Baehr and legendary entertainer Pat Boone draw from their own extensive experiences and interviews with experts to help readers understand the power of the media and its influence on families. They also examine the ongoing threats to family values by those in the media who promote a humanistic worldview. Media consumers are challenged to understand their own worldviews, make wise choices, and are given the information they need to do so. Baehr and Boone also look at the progress that has been made in family values programming in Hollywood and offer hope for the future.

- Publisher
You May Also Be Interested In
About "The Culture-Wise Family"
Sex. Graphic killings. Profanity. Adultery. Flip on the television, head for the movie theater, or open a newspaper and you can't get away from it. How do you raise a family in a world supersaturated with media extolling toxic values that are not your own? Media critic Dr. Ted Baehr and legendary entertainer Pat Boone draw from their own extensive experiences and interviews with experts to help readers understand the power of the media and its influence on families. They also examine the ongoing threats to family values by those in the media who promote a humanistic worldview. Media consumers are challenged to understand their own worldviews, make wise choices, and are given the information they need to do so. Baehr and Boone also look at the progress that has been made in family values programming in Hollywood and offer hope for the future.
- Publisher


Meet the Authors
Ted Baehr
Ted Baehr is publisher and editor-in-chief of MOVIEGUIDE and chairman of Good News Communications, Inc./Christian Film & Television Commission(TM). His radio and television programs, MOVIEGUIDE: A Family Guide to Movies and Entertainment, are syndicated internationally and nationally. Baehr is the author of The Media-Wise Family. He and his wife, Liliana Milani, live in Camarillo, California, with their four children.
Pat Boone
Pat Boone was second only to Elvis in the 1950s and early 1960s as the most popular singer at that time. In his trademark white buck shoes, Boone skyrocketed to fame with such hits as "Two Hearts," "Ain't That A Shame," "I Almost Lost My Mind," "Love Letters in the Sand," and "Sugar Moon." He appeared in 15 movies, including "Bernardine," "April Love," "State Fair," and "Journey to the Center of the Earth" and hosted his own televisions series, "The Pat Boone/Chevy Showroom," for three years. In the 60s and 70s the Boone family toured as gospel singers and recorded gospel albums, such as "The Pat Boone Family" and "The Family Who Prays." Pat is a direct descendant of pioneer Daniel Boone. He and his wife, Shirley, have four daughters – Cherry, Lindy, Debby, and Laury.